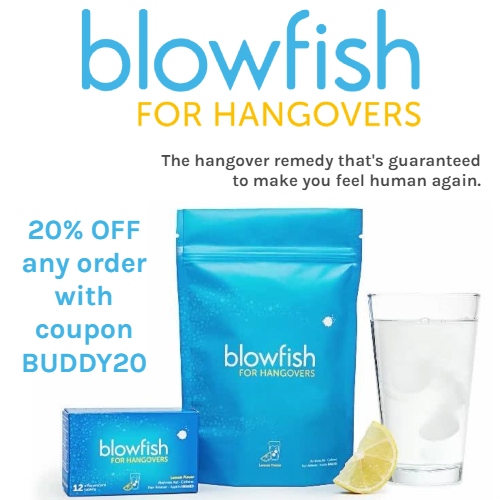 We've all been there – the morning after a night of celebration, when the pounding headache, queasy stomach, and overall sense of regret hit us like a ton of bricks. Hangovers can turn a promising day into a miserable one, leaving us desperately searching for a remedy. Enter Blowfish, a promising solution that can help alleviate the aftermath of a wild night out.
FDA-recognized Blowfish is not your typical hangover remedy; it's an over-the-counter tablet formulated to target the specific symptoms that arise after a night of excessive drinking. Its combination of ingredients that provide rapid relief from the most dreaded hangover symptoms.
Aspirin: This ingredient is included for its pain-relieving and anti-inflammatory properties. The throbbing headache that often accompanies a hangover can be attributed to inflammation and dilated blood vessels. Aspirin's ability to reduce inflammation and constrict blood vessels can potentially help alleviate this discomfort.
Caffeine: Known for its stimulating effects on the central nervous system, caffeine can help combat the fatigue and grogginess that commonly follow a night of heavy drinking. Additionally, caffeine can enhance the effectiveness of pain relievers, making it a valuable addition to Blowfish's formula.
Antacids: The third key component of Blowfish is antacids, which can help soothe an upset stomach. Excessive alcohol consumption can lead to increased stomach acid production, causing nausea and discomfort. Antacids work by neutralizing excess stomach acid and easing digestive distress.
Using Blowfish is as simple as following a few steps:
1) Drop: Drop two Blowfish tablets into a glass of water.
2) Fizzle: Watch the tablets dissolve in the water, creating a fizzy solution.
3) Drink: Once the tablets have dissolved, drink up.
Blowfish's fast-acting formula is designed to provide relief within 15-30 minutes, allowing you to bounce back from a night of revelry and reclaim your day.
Get 20% off any order at Blowfish for Hangovers using coupon BUDDY20. Shipping is Free on orders of $50 or more. Blowfish is backed by a money-back guarantee.
As the saying goes, "An ounce of prevention is worth a pound of cure." While Blowfish and similar remedies might offer relief after the fact, the best way to prevent a hangover is to drink alcohol responsibly. Staying hydrated throughout the night, consuming food before and along with your drinks, and setting a limit for yourself can significantly reduce the likelihood and severity of a hangover.
1