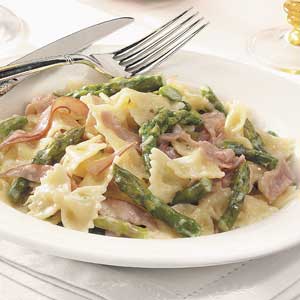 This is my kids' favorite pasta! My oldest daughter doesn't eat meat, so I add the ham as the last step and set a meatless bowl aside for her. If you'd like to get fancy, substitute prosciutto for the ham.
Ingredients
1 package (16 ounces) bow tie pasta
1 cup low sodium chicken broth
1 cup heavy whipping cream (or go lighter and use half and half or milk)
2 tbs unsalted butter
2 tbs all-purpose flour
1 pound fresh asparagus, trimmed and cut into 1-inch pieces
1/2 cup shredded Parmesan cheese
2 cups of diced, cooked ham
dash of pepper
Directions
Cook pasta according to package directions. Drain, rinse, and set aside.
Melt butter in a medium to large stockpot. Whisk in flour and cook until lightly browned. Whisk in cream, broth, and pepper. Bring to a boil then reduce heat and simmer, uncovered, for 6-7 minutes or until slightly thickened.
Place asparagus in about 2 tbs of water in a microwave-safe dish. Cover; microwave on high for 3 minutes or until crisp-tender. Drain.
Add pasta, 1/4 cup of the Parmesan cheese, ham, and asparagus to the stockpot and stir to coat with sauce.
Pour mixture into a lightly greased casserole dish. Top with remaining 1/4 cup of Parmesan cheese and bake uncovered in pre-heated 350° oven for 30 minutes, or until the top is golden brown.
Sign up for my email newsletter to get recipes like this delivered to your inbox!
1