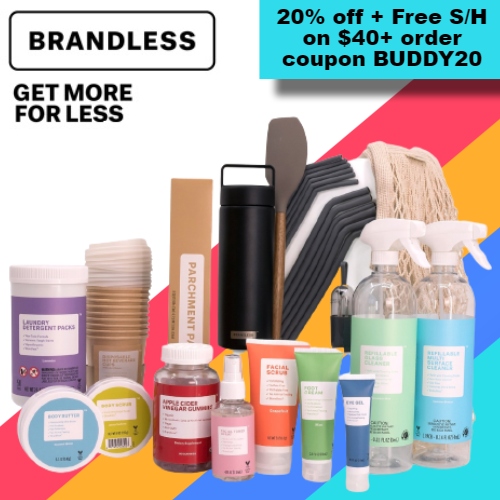 Founded in 2017, Brandless offers high-quality, affordable personal care products, vitamins & supplements, and home goods.
One of the unique aspects of Brandless is their commitment to transparency and social responsibility. They believe that everyone should have access to healthy, high-quality products, and they work to keep their prices low by cutting out the middleman and selling directly to consumers.
Why shop at Brandless?
Premium Quality
Innovative and efficacious ingredients in all of their carefully crafted products.
Fairly Priced
Get value and uphold your values: Brandless means you can always enjoy more of the best "better-for-you" products.
Clean & Certified
Cruelty-free and sustainably-minded goods mean you can always feel good about using Brandless products.
Get 20% off Sitewide + Free Shipping on your order of $40 or more at Brandless using coupon BUDDY20.
TIP: Be sure to check out their green household cleaning products, skincare, and kitchen tools for some really great deals!
All products are backed by a 100-day return policy. If you're dissatisfied with a product for any reason at all, let them know within 100 days of purchase for a refund, less shipping cost for returning the item.
Certain Brandless products, including the Pro-Blender and Brilliant Beauty Activator are backed by a 3-year warranty.
4