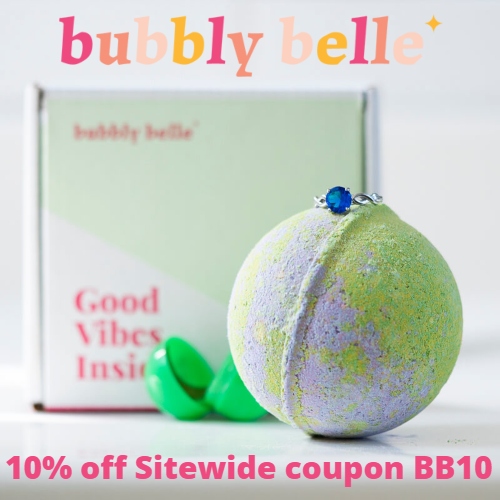 Bubbly Belle offers premium bath bombs that are designed to help you slow down, relax, pamper yourself, and feel refreshed. All products are handmade in the USA, paraben free, and kid safe.
Bubbly Belle bath bombs are made with only the finest natural ingredients, including 100% pure essential oils that are specially blended to help with things like getting a good night's sleep, destressing from a tough day, and rejuvenating for the day ahead.
They come in tons of great scents and they are available in fun shapes for holidays and for kids, making them great gifts for girls of any age! To make them extra special & fun, each one contains a surprise ring inside and a chance to win a $10k ring or $10k in cash! Simply enter the code included in your bath bomb on their website to enter.
Bubbly Belle also offers luxurious body bars and a fragrance collection that includes essential oils, roll-on blended oils, diffusers, and diffuser jewelry.
Fun Fact: Bubbly Belle is the largest wholesale bath bomb manufacturer in the USA!
Get 10% off Sitewide at Bubbly Belle using coupon BB10. Shipping is Free on orders of $60 or more.
3