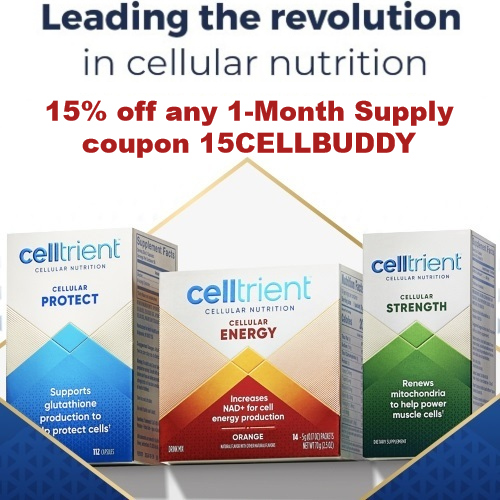 Celltrient provides health supplements that help you age well and live better. There is an invisible aging process happening inside our cells that affects how well they function and can impact the quality of daily life. Celltrient has partnered with specialists in cellular biology, aging research, nutrition, and fitness to create supplements that give you targeted nutrition at the cellular level – where aging actually starts!
New advances in scientific discovery have uncovered the important role cellular health plays in how we age. As we age, so do our cells. This is also known as Age-Associated Cellular Decline (AACD), which is an individual journey where performance "gaps" at the cellular level can emerge at different times and grow at different rates. Your get up and go starts in your cells. Taking care of the power plants in your cells is important, as they produce the energy that fuels your body. Celltrient provides deep-acting nutrients to help transform how your cells perform with age to help them keep up with you.
Celltrient's range of specialized supplements provide specific cellular nutrients that can help address key cellular changes, including:
Cellular Protect – Protects the cells that protect you! This supplement supports normal immune function, reinforces antioxidant defenses, and defends against oxidative stress with a patented blend of Amino Acids, Glycine and N-Acetyl Cysteine (GlyNAC), which is important for Glutathione production. Glutathione is a powerful antioxidant that acts as a natural cell defender against free radicals and oxidative stress. Protect comes in capsule form and in a flavored drink mix.
Cellular Energy – Provides energy from deep within to help you make the most of every day. Cellular Energy drink mix contains Tru Niagen® Nicotinamide Riboside, which has been clinically shown to increase NAD+ levels in as soon as 2 weeks. NAD+ is an important molecule found inside every living cell. It plays a critical role in cellular energy production. Cellular Energy comes in great tasting orange & summer cherry flavors.
Cellular Strength – Activates the natural processes the body uses to renew mitochondria that help power muscle cells. Mitochondria are the powerhouses of the cell, producing more than 90% of the cellular energy needed each day. Efficient mitochondrial function is important for muscle strength and stamina as you age. Strength capsules and drink mixes contain Mitopure™ Urolithin A, which is clinically shown to support mitochondrial health in muscles. Drink mixes come in refreshing lemon & raspberry pomegranate flavors.
Get 15% off and Free Shipping on any 1-month supply of supplements at Celltrient using coupon 15CELLBUDDY. Coupon is not valid on subscription orders.
7