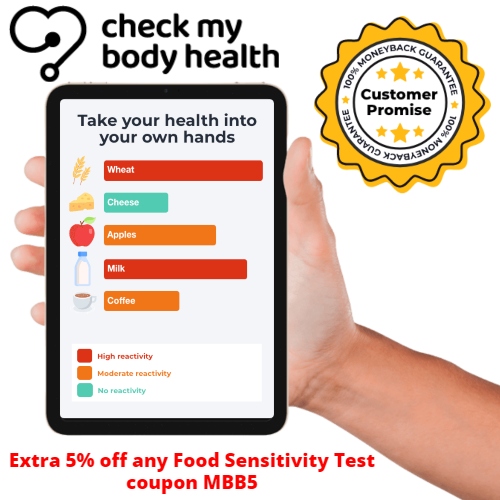 Did you know that many health problems can be fixed just by changing your diet? Everyone has unique sensitivities to certain types of foods. When you continually consume foods you are sensitive to, it can cause issues like chronic fatigue, gut problems, slow metabolism, and even depression.
Going to a doctor to figure out your sensitivities can be time consuming and expensive. With Check My Body Health, you can skip the hassle and do it all from the comfort of your own home! No need for multiple doctor & lab appointments, no painful needles, and no waiting weeks to get your results.
Check My Body Health food sensitivity tests are easy, affordable, non-invasive, and extremely accurate. Simply send in a hair sample and you'll get your results about 3 days after they receive it. The test detects sensitivities, imbalances, and deficiencies for up to 970 food and non-food items, including environmental sensitivities, heavy metals, mineral levels, vitamin levels, gut bacteria, digestive enzymes, and more.
Along with your results, you'll receive Free elimination diet advice to help you get rid of the foods your body is sensitive to and get on your way to better health, a 30-day Free trial from The Meal Planners to make your elimination diet easy, personalized & delicious, and a Free food diary template to track your results.
Get an extra 5% off any Food Sensitivity Test at Check My Body Health using coupon MBB5. Shipping is Free both ways!
Through 7/3, tests are 75% off and coupon MBB5 will provide an additional savings, making the Complete Sensitivity test $36.10 (reg. $152) and the Essentials Sensitivity test $26.60 (reg. $118).
Check My Body Health is so confident their sensitivity tests will help you that they offer a 100% money back guarantee! If you don't see an improvement in your symptoms after following an elimination diet for 6 weeks, simply let them know and they'll provide a full refund. You must track your diet with the food diary to qualify.
The Meal Planners 30-day Free trial begins when you place your order. You can cancel the subscription at any time. If you do not cancel before the trial period ends, you will be charged $3.99 per month. The trial is automatically added to your cart & no code is required. You can remove it from your cart during the checkout process if you don't wish to try the service.
3