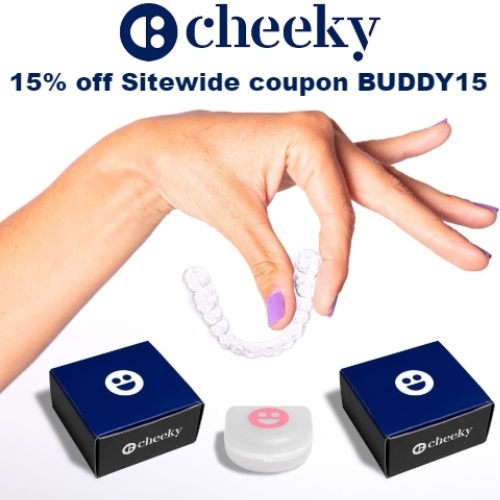 Night guards collect bacteria during and after every use, putting you at risk of illness (and we won't even talk about the bad breath!). Replacing your night guard every three months or so is ideal, but until now, that's been way too expensive. Cheeky believes everyone deserves a good night's sleep, without scarifying oral health, so they set out to make custom night guards inexpensive enough to be replaced when they get gross.
Cheeky night guards are made with the same process and materials as a night guard you would order from your dentist. They are completely BPA, silicone, and latex free and made with 100% FDA approved materials, machinery, and processes. Sending night guards directly to you and eliminating middlemen means more savings in your pocket!
Their impression kits are super easy to use and include simple step-by-step instructions. Once you complete your impression, just send it back in the same box it came in. Cheeky will use 3D scanning technology to precisely replicate your impression, giving you a perfect fit. If for some reason your guard doesn't fit just right, Cheeky will send you a new impression kit and make you a new night guard free of charge.
Cheeky knows every teeth grinder has unique needs. That's why they offer both soft and hard/soft night guards in any thickness for both the upper and lower teeth. Not sure which night guard to choose? No worries. They can always change material, thickness, and arch based on your feedback.
Cheeky subscriptions are easy, convenient, and affordable. Just choose if you'd like to pay annually or quarterly and Cheeky will send a fresh night guard straight to your door every three months. There are no contracts and you can unsubscribe at any time.
Get 15% off your order at Cheeky using coupon BUDDY15. Shipping is Free on all orders. For the most savings, consider their annual subscription. You'll save 33% by paying upfront and that discount stacks with 15% off coupon BUDDY15, making the night guards under $50 each. Coupon can also be used on one time orders.
Cheeky night guards come with a full money back guarantee!
7