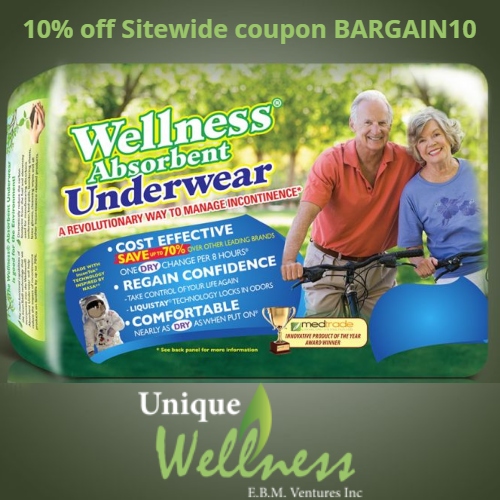 Unique Wellness is an award-winning adult brief manufacturer. They provide top quality absorbent briefs, absorbent underwear, and bed pads. Their products allow wearers to be confident and comfortable, knowing they are free to enjoy a healthy and active lifestyle, without having to worry about leaking and/or frequently changing their briefs.
Unique Wellness briefs and underwear are the driest on the market today. While the average adult brief can only hold up to 24 ounces of liquid, their products can hold up to 87 ounces of liquid. This means that one Unique Wellness brief or underwear is equal to almost four of their competitor's briefs, in regard to absorbency. Because their products are so absorbent, they drastically cut the number of briefs used per day and only need to be changed, on average, two to three times a day, compared with the average brief requiring 7-10 changes a day – providing convenience and savings of 70% over leading brands!
Using InconTek® technology – based on similar designs used by NASA – Unique Wellness products absorb wetness and liquid away from the wearer's skin, negating the odor commonly associated with the wearing of adult briefs, as well as a whole host of problems associated with adult briefs and incontinence (skin irritation, urinary tract infections, etc).
Get 10% off Sitewide at Unique Wellness using coupon BARGAIN10. Stock up and save by ordering a case. You'll save $24-$32 and get Free shipping.
Want to try before you buy? Samples are available. Just pay $1.99 to cover shipping on each sample you choose.
Unique Wellness products have been featured on the Discovery channel and were also awarded the Medtrade 2013 Innovative Retail Product Award!
16