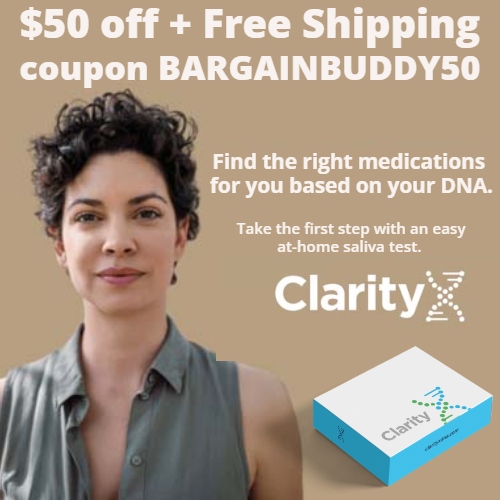 One size doesn't always fit all when it comes to medications and treatments. 99% of the population has at least one actionable gene mutation that affects drug metabolism and 50% of patients with major depression do not respond to typical antidepressant medications, so it can be a real struggle finding the right medication.
ClarityX takes the guesswork out of your healthcare with genetic testing that can help identify the best medications for you based on your unique DNA, so you can skip the frustrating trial & error process.
Their pharmacogenetic (PGx) test is a clinically proven, genetic-based decision support tool that analyzes important genetic variations that may affect your response to current and future prescribed medications. They use the most up-to-date clinical guidance from the FDA, including evidence based recommendations.
ClarityX tests only require a simple cheek swab that can be done from the comfort of home. They have two tests to choose from:
The Mindwell Test gives you and your doctor definitive answers as to how you will respond to mental wellness medications. It includes clear insight on which medications will work best for your condition based on your unique genetic profile. It covers clinical depression, anxiety disorder, bipolar disorder, ADHD/ADD, OCD, PTSD, Schizophrenia, Opioid Withdrawal, and pain management.
The Mindwell Test goes even further than mental wellness. It gives you a complete picture as to what medications will work best for you, which medications will require a dosage adjustment, and which drugs may put you at risk for unwanted side effects. This test includes 16 additional therapeutic areas – cardiovascular, immunology, gynecology, infections, gastrointestinal, rheumatology, urological, Sjogren's Syndrome, Gaucher, chronic liver disease, nausea & loss of appetite, overactive bladder, Huntington's Disease & Tardive Dyskinesia, Alzheimer's & dementia, transplantation, and anti-cancer.
Whether you're looking for a new medication or have been recently diagnosed, ClarityX can help you & your physician find the best treatment, so you can take control of your health, happiness, and overall well-being.
Get $50 off any test at ClarityX using coupon BARGAINBUDDY50. Shipping is Free both ways!
4