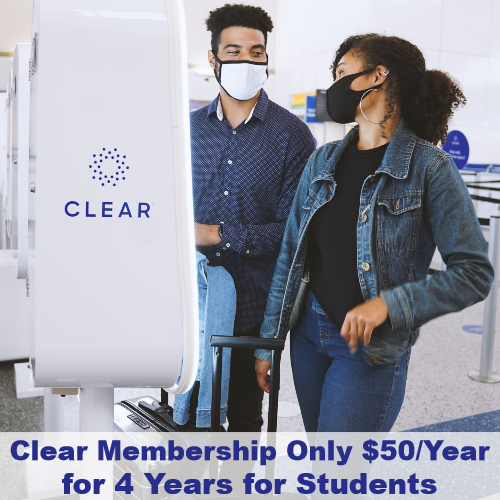 If you've been in an airport, you're probably familiar with Clear. It's that separate line right before the TSA screening that usually only has a handful of people in it and those people get to move to the front and get on their way while you're stressing out about missing your flight.
Well, Clear isn't just for the rich and privileged. You, too, could be traveling like a VIP for less than the price of a concert ticket or a few pizzas!
Clear Airport Security is offering a smoking hot discount for students right now! Normally $180/year, students can get a Clear Membership for just $50 per year for 4 years using this special link. All you have to do is provide a valid school email address and a student ID to verify your eligibility.
Parents, grandparents, or friends of grads – This would make a great gift for any kid heading off to college!
More Clear Airport Security Discounts –
You can Try Clear for Free for 2 Months (including family). If you decide you don't want to keep the membership going, cancel before 2 months is up and you'll pay nothing.
If you want to skip the Free trial, you can get $30 off a 1-Year Membership if you pay upfront. Use promo code AFF149 if the discount is not applied automatically.
23