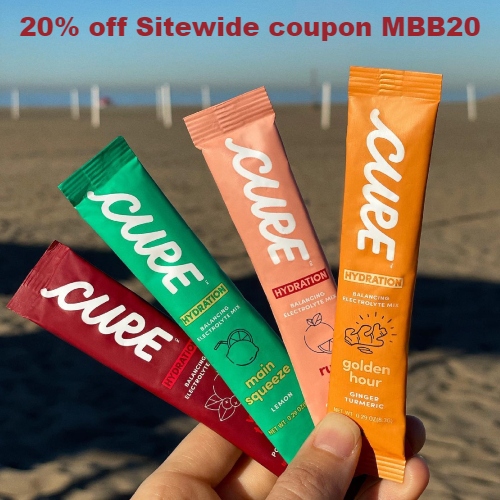 Did you know that 75% of Americans are usually dehydrated, and most don't even realize it? Symptoms of dehydration include fatigue, headaches, loss of focus, muscle cramps, and flu-like symptoms. Most people think the solution to dehydration is to drink more water, but science actually shows that staying hydrated requires more than just water – Replacing electrolytes is the key to hydration!
We need essential electrolytes like sodium and potassium to adequately replenish our bodies from illness and everyday activities like exercise, travel, alcohol consumption, and late nights. The problem is, most electrolyte drinks are packed with sugar and artificial colors & ingredients. That's not the case with Cure.
Cure is an electrolyte drink mix (Oral Rehydration Solution) that contains 4x the electrolytes of leading sports drinks and is made with plant-based, non-GMO ingredients like coconut water, pink Himalayan salt, and other natural ingredients that are not only good for you, but taste great, too!
Cure comes in 8 refreshing flavors: Berry Pomegranate, Lemonade, Watermelon, Lime, Grapefruit, Orange, and Ginger Turmeric. Want to try multiple flavors? Their Starter Kit & Variety Pack allow you to try some of their best-selling flavors in one convenient pouch.
Need a boost of energy? Cure also offers energizing matcha green tea & peach infused black tea mixes that provide a natural caffeine based energy boost with the same hydration benefits as their essential electrolyte mixes.
Get 20% off Sitewide at Cure using coupon MBB20. Coupon is valid on one time orders and will also apply to the first shipment on a subscription order. Shipping is $3.99 or Free on orders of $45 or more. All subscriptions ship Free.
Fun Fact: Cure was named Best Hydrating Drink Mix by Women's Health!
More about Oral Rehydration Solution –
Based on the World Health Organization's gold standard of rehydration, known as Oral Rehydration Solution (ORS), each packet of Cure contains electrolytes and glucose to facilitate rapid hydration directly into your bloodstream. ORS is as effective as an IV drip, but without the pain and way more convenient. Since its inception, ORS has saved over 50 million lives from severe dehydration around the world!
7