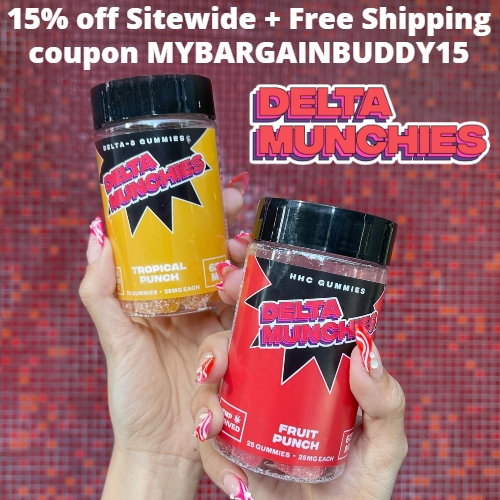 With over 15 years of experience in the cannabis industry, Delta Munchies offers some of the most comprehensive full spectrum edibles on the market.
Their Delta 8 edibles are available in many great tasting options, including gummy bears & worms, peach rings, sour fruit belts, watermelon chews, and grape gushers.
Their Delta 9 gummies are made with a true-to-cannabis experience in mind. Each one contains 10mg delta 9, 1mg CBN, 1mg CBG, 1mg CBD, plus traces of 8 additional cannabinoids: CBC, CBCa, CBGa, CBDa, THCV, THCva, D8, and THCa to provide a full-bodied experience. They come in your choice of 250mg or 400mg and they are available in Strawberry Shortcake, Blue Dream, and Mango Crush flavors.
Delta Munchies also offers Delta 8 vapes & cartridges, tinctures, pre-rolls, and HHC products.
Get 15% off Sitewide at Delta Munchies using coupon MYBARGAINBUDDY15. Shipping is Free on orders over $60. All products come with a 30-daymoney back guarantee.
All products are third-party tested using full panel DEA-certified lab tests to ensure you're getting the cleanest and most potent products possible.
2