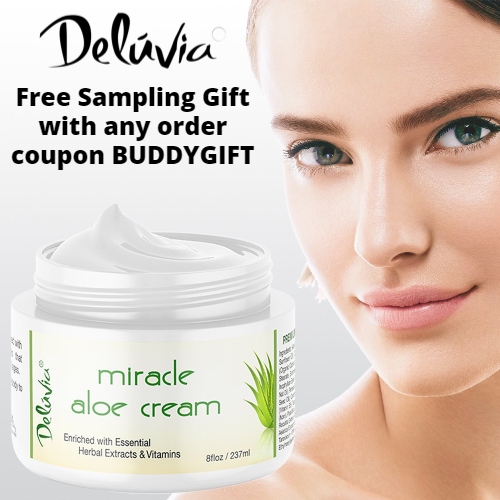 Deluvia is a family-owned skin care and cosmetic company that offers organic and all natural products enriched with premium ingredients such as aloe, botanicals, and Dead Sea minerals. Their products offer a way to relax your body and mind, enrich your senses with aromatic oils, and reap the benefits of healthier, more youthful-looking skin, leaving you feeling refreshed and revitalized.
The Deluvia product line includes treatments such as Dead Sea mineral salts and Dead Sea mud, which help to alleviate aliments like psoriasis and eczema, premium body wash, liquid and bar soaps that cleanse, hydrate, and exfoliate, a full line of all natural mineral makeup, and more. Their mineral makeup is some of the purest and most effective on the market. It offers great coverage, stays on all day, and is water resistant.
Their top-selling Miracle Aloe Cream is enriched with a unique combination of premium ingredients, including a highly-potent Hawaiian aloe, herbal extracts, and vitamins to soothe irritated skin caused by eczema, psoriasis, burns, dryness, bug bites, and/or sunburn. Its unique properties moisturize and hydrate, reduce the look of fine lines and wrinkles, and make your skin feel softer and smoother. It can be used anywhere on the body, and since it's unscented, it's great for all skin types, including sensitive skin.
Get a Free Sampling Gift with any order at Deluvia using coupon BUDDYGIFT. Shipping is $7.95 or Free on orders of $49 or more. All products come with a 60-day satisfaction guarantee.
2