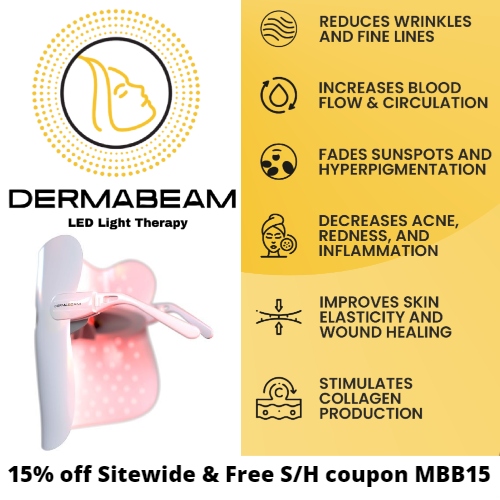 Dermabeam offers LED light therapy devices that provide safe, non-evasive, at-home solutions for a variety of skin concerns by providing cells with extra cellular energy.
Unlike other treatments that use on harsh chemicals or drugs, light therapy naturally energizes skin cells.
Dermabeam LED light therapy masks emit different wavelengths of visible light which are absorbed by the mitochondria in our cells, giving them the energy they need to repair and rejuvenate the skin. Results can include:
– Stimulates collagen & elastin production for youthful skin
– Reduces oily skin
– Eliminates bacteria that causes acne
– Improves the appearance of fine lines & wrinkles
– Heals acne scars
– Reduces redness & inflammation
– Fades hyperpigmentation & sunspots
Dermabeam light therapy masks are suitable for all ages & skin types. They are cordless & rechargeable, comfortable, lightweight, and easy to use.
They offer two versions – The original Dermabeam mask, which has 64 LEDs & 3 light colors, and the Dermabeam Pro, which is equipped with 115 LEDs & 7 light colors, providing even more dramatic results.
Dermabeam also offers premium skincare products to enhance the benefits of their light therapy devices.
Get 15% off Sitewide at Dermabeam using coupon MBB15. All orders ship Free – No minimum purchase required!
Love their skincare products? Consider a monthly subscription for a discounted rate! Coupon MBB15 will apply to your first shipment on subscription orders.
3