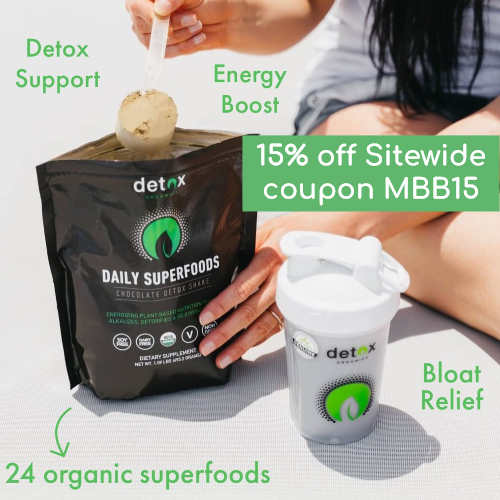 Detox Organics is a health and wellness company that offers great tasting superfood & protein shakes and top-quality supplements that provide energy, cleanse your body, and support overall health. All Detox Organics products are vegan, dairy, soy & gluten free, USDA certified organic, and non-GMO. Their product line includes:
Daily Superfoods – Their signature Daily Superfoods Shake is 3-phase plant-based supplement that alkalizes, detoxifies, and energizes all-in-one. It supports digestion, is a super immune booster, and works to support your overall health and remove harmful toxins, while boosting energy and reducing inflammation. It comes in a delicious chocolate flavor and has many other great benefits including:
• Daily support for healthy elimination of toxins
• Helps maintain a natural pH balance within your body
• Replenishes electrolytes with RAW Coconut Water
• Supports overall health and wellness
• Supports detoxification
• Helps achieve recommended daily serving of fruits and veggies
• Boosts energy
• Reduces inflammation
• Promotes weight loss
• Eliminates fatigue
• Reduces bloat
• Eases digestion
Daily Protein – This is a great post-workout, and for those that are looking to replace a meal, it makes a quick & easy, nutrient dense, low calorie, delicious liquid meal. Their superfood protein is made from four different sources of protein to make sure you get a good variety of healthy vegan protein, and it's formulated with electrolytes and healthy fats to help your body recover quickly and thrive. Unlike most gritty protein shakes, this vanilla flavored shake is refreshing, fluffy, and light.
Daily Boost – This is the first ever 100% organic weight loss aid. Made with just 8 ingredients, all truly from mother nature herself. Within 30 minutes of taking Daily Boost you'll feel a gentle burst of organic energy that you can expect to stay with you all day. Daily Boost is a metabolic driver that helps the body utilize calories more efficiently, which in turn, yields weight loss. Their jitter-free, non-addictive formula is great just before a sweat session. In fact, if you train, get ready for your best workout to date, PLUS you'll burn even more calories in the process!
Emergency Detox – This charcoal-based supplement gets rid of toxins fast. It shouldn't be taken daily, only when it's needed. Most people use Emergency Detox to eliminate hangovers. Next time you want to have a few cocktails, take two before bed with a glass of water, and you'll wake up without a hangover or fog. It's also great after a binge of fried or heavily processed foods, and it should be taken if you are ever exposed to mold or toxic air. The activated charcoal quickly binds to foreign and toxic substances and flushes them out. It is also a great teeth whitener, just break open a capsule and add it to your toothpaste.
Daily Wake-Up – This high quality, organic Columbian coffee is the perfect way to start your morning. It is roasted to order so you get the freshest, most delicious coffee possible, guaranteed. If it's not the best cup of coffee you have ever had, flavor, freshness, and buzz combined, just email Detox Organics and they will give you a full refund. You can supercharge your mornings by adding a scoop of Daily Superfoods to your Daily Wake-Up to enjoy an energy boosting, bowel clearing, superfood mocha to start your day.
Get 15% off Sitewide at Detox Organics using coupon MBB15. Shipping starts at just $3.99. All products come with a 90-day money back guarantee when they are a first time purchase. If you are not satisfied for any reason, you can get a refund. Coupon is not valid on subscription orders.
7