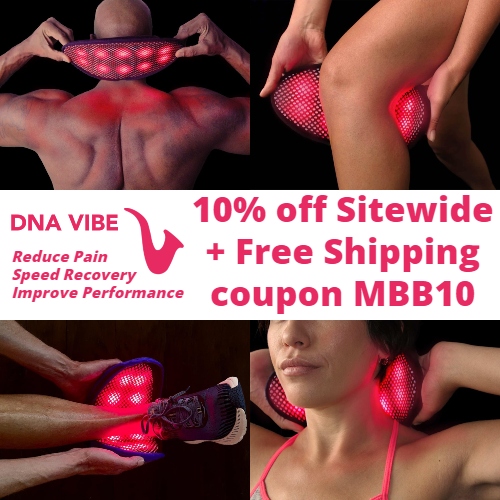 DNA Vibe offers a safe & effective way to reduce pain, speed recovery, and improve performance. Their innovative Jazz Band light therapy devices stop inflammation in its tracks to relieve acute and chronic pain, increase circulation to accelerate recovery from injuries & workouts, and boost cellular oxygenation to help you perform at your best.
Unlike most conventional light therapies, their patent-pending intelligent light therapy technology operates at low intensity and delivers four complementary modes (red, near-infrared, magnetic, and micro-vibration) that work together to help reduce inflammation, stiffness, and pain while improving recovery from injury, surgery, workouts, and day to day activities.
They have 3 models to choose from, so you can pick the Jazz Band that's just right for you. Each model is designed for universal application, meaning you can use it anywhere you have pain and you don't have to buy multiple products to fit each area of the body.
97% of Jazz Band users report significant results and DNA Vibe is confidant you will, too! All devices come with a 60-day 100% money back guarantee. They just ask that you give it a fair shot by doing two 30-minute sessions per day for 14 consecutive days. After that, if you don't feel that it's helped, simply send it back for a full refund. They'll even pay for the return shipping!
Get 10% off Sitewide at DNA Vibe using coupon MBB10. All orders ship Free – No minimum purchase required! DNA Vibe devices are covered by a 1-year warranty.
Fun Fact: DNA Vibe was featured on the Today Show as the go-to wearable tech for Olympians
DNA Vibe gives back! They are a Veteran founded business that is mission-oriented and supports multiple organizations, including several Veteran groups, first responders, active duty military, and a host of charitable causes. They gratefully support those who make our world a safer place by giving them special access to their technologies.
2