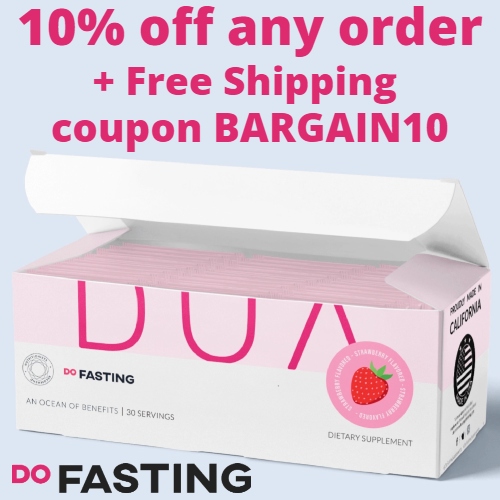 Intermittent fasting has many health benefits, including improved heart & brain health, lower risk of type 2 diabetes, reduced risk of cancer, and of course, weightloss! The plan sounds easy at first, fast for 16 hours eat for 8 – But then the cravings & hunger pangs come, and that's when a lot of people give up.
DoFasting Supplements can help get you through the hardest times, so you can keep going and reach your goals more quickly and maintain them.
DoFasting Appetite Suppressants are a fiber complex with glucomannan & cellulose that is scientifically proven to keep your cravings at bay during your entire fasting window. They help by making you feel full, which signals your brain to stop craving food and focus on burning fat instead. They also nourish healthy gut bacteria, reduce bloating, lower cholesterol, and improve skin health.
Get 10% off any order of DoFasting Supplements using coupon BARGAIN10. Coupon is valid on one-time orders as well as the first shipment on a subscription order. All orders ship Free – No minimum purchase required!
For extra savings, consider a discounted 3- or 6-month supply pack and pair that with a subscription for another 10% off!
2