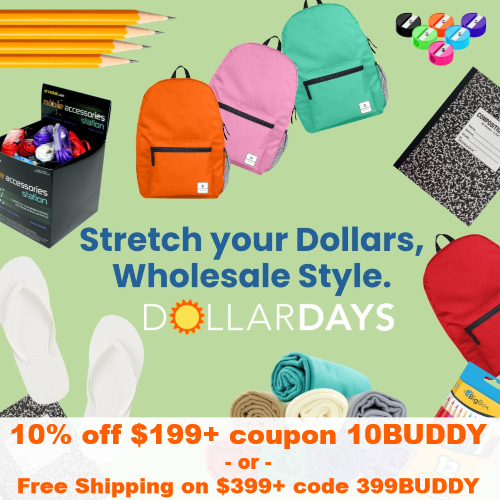 For nearly 20 years, DollarDays has been a trusted supplier to thousands of nonprofits that need to stretch their donation dollars to help those in need.
Whether you're searching for disaster-relief supplies or toys and games, restocking your shelves with hygiene kits or preparing for back-to-school season with backpacks and school supplies, DollarDays has what you need to spread more good.
You can also keep your pantry shelves stocked with wholesale snacks and grocery items from DollarDays. They carry family favorites from top brands, like Quaker, Kellogg's, General Mills, Kraft, Heinz, Nabisco, Nestle, Nature Valley, Bigelow, Stash, Jack Links, and many more.
Need supplies to keep your community safe? Check out their wholesale PPE items, including masks, gloves, face shields, hand sanitizer, sanitizing wipes, and more.
Get 10% off $199 or more at Dollar Days using coupon 10BUDDY OR get Free Shipping on your order of $399 or more using coupon 399BUDDY.
Shop by Category
19