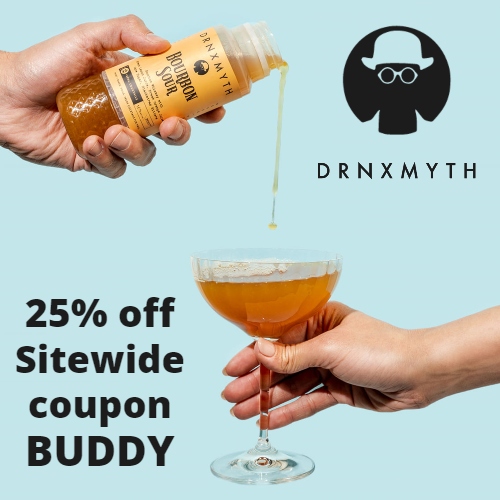 If you enjoy a good cocktail but you're sick of high bar prices, artificial drink mixers at the liquor store, and the hassle & mess of making your own fresh mix, check out DrnxMyth.
DrnxMyth partners with talented bartenders across the country to deliver fresh, farm-to-bottle craft cocktails straight to your door. Their cocktails are made with the highest quality produce which is cold pressed straight into the bottle and immediately pressurized using their patented pressure technology for the best & freshest taste possible.
DrnxMyth cocktails contain no artificial ingredients or preservatives and they come in a convenient twist to mix bottle that keeps the cold pressed juice separate from the liquor to preserve the juices' flavors. When you're ready for a drink, simply twist the bottle to mix the ingredients for a fresh and delicious cocktail in just seconds. Each bottle contains two servings and they average only 110 calories per serving!
They have a great selection of classic cocktails, like Bourbon Sour, Rum Punch, and Margaritas, as well as fun & unique cocktails, like the Peach Inferno, Smoked Watermelon, and Hibiscus Haze. You can purchase single bottles or, if you want to try multiple flavors, grab one of their variety packs.
Get 25% off Sitewide at DrnxMyth using coupon BUDDY.
5