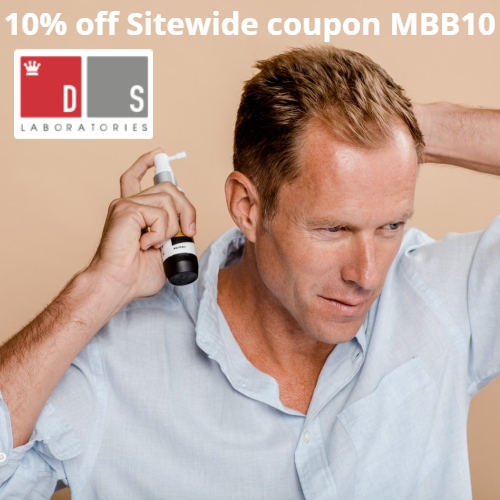 DS Laboratories creates technology focused products for your hair and skin. They are experts in hair regeneration and cosmetic dermatology. With over 15 years in the business, DS Laboratories products are enjoyed and trusted by millions of people around the world – serving over 46 countries!
DS Laboratories ensures their products will deliver tangible results. Solid scientific research is behind of all their product development, yielding uncompromised products that truly work. DS Laboratories rigorously tests and verifies all claims through clinical studies that support each product's effectiveness. If a compound or ingredient doesn't pass the test, it will never be used in their products.
They offer a wide range of products that help with everything from hair loss and dandruff to anti-aging, eyelash growth, and cellulite reduction. Some of their best-sellers include:
Spectral.DNC-N – The first topical hair loss treatment to employ 5% Nanoxidil®, a powerful new alternative to Minoxidil with high efficacy, low molecular weight, and no known side effects. It arms men and women with a powerful new tool against hair loss and enables them to maintain healthy-looking hair while promoting hair growth in the desired areas. It often works faster and more effectively for men and women who did not respond well to standard leave-in treatments.
Revita – Hair growth support tablets that provide nutritional ingredients to fortify and promote hair growth. They contain a proprietary formula featuring Zinc, which contributes to protein synthesis and helps protect against oxidative damage, along with Biotin, which converts nutrition to energy and aids in the maintenance of hair. Keratin provides strength and improves hair flexibility, while Iron delivers oxygen to the hair root and helps reduce hair fallout, promoting healthier hair growth.
Spectral.Lash – A gentle formula that promotes rapid hair growth along the lash line, Spectral.Lash is the best new addition to your morning routine. This clinically-tested dermatological treatment utilizes the most innovative advances in biotechnology for eyelash growth and quickly delivers thick, beautiful lashes.
Dandrene – A medicated shampoo that starts to work on contact. It controls itchy and flaky scalp conditions from the first use, thanks to Extra Strength Zinc Pyritione 2%. This formulation deeply nourishes and clarifies the hair and scalp from the roots to the tips without any harsh chemicals or sulfates. It restores your hair's ability to retain moisture, reveals a healthy shine, and continues to work for hours even after it's been rinsed off.
Get 10% off Sitewide at DS Laboratories using coupon MBB10. For extra savings check out their discounted Kits & Bundles. Shipping is $5 or Free on orders of $50 or more. Coupon is not valid on subscription orders.
3