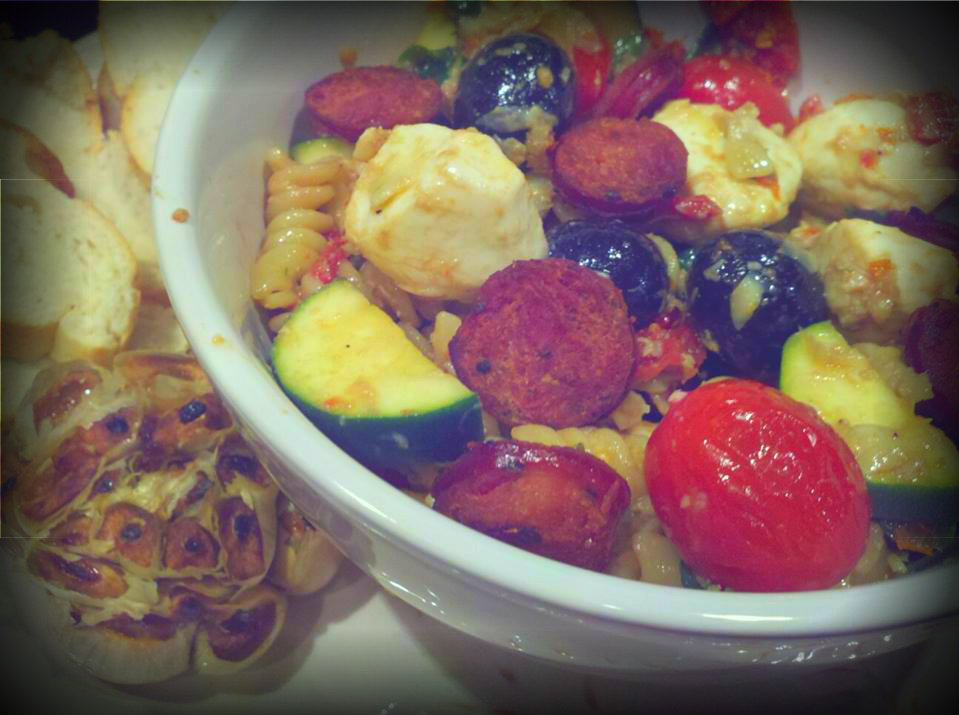 Looking for a fast, easy dinner idea? Or something to bring along to a potluck? Try my Easy Pasta Salad Recipe! It is always a hit. It is very versatile – you can swap in veggies you have on hand or use your favorite Italian dressing instead of balsamic vinegar and olive oil. What is your favorite pasta salad? Feel free to share!
Ingredients
8oz Rotini Pasta
1/4 cup jar sun dried tomatoes, rinced and sliced
1 cup of cherry or grape tomatoes
1 medium zucchini, sliced in 1/4 inch rounds, then halved
1 can whole black olives
1 can of artichoke hearts, rinsed
3 cloves of garlic, minced
8 oz fresh mozzarella cheese balls
1/4 cup shredded Parmesan cheese
1/4 cup + 1/8 cup olive oil
1/8 cup of balsamic vinegar
1/8 TSP fresh ground pepper
Cajun Style Andouille, sliced in 1/4 inch rounds, pan seared and cooled (optional)
Directions
Cook rotini pasta according to directions. Place cherry or grape tomatoes in a bowl and pour hot pasta water over them to blanch. Rinse pasta with cool water and drain. Combine sun dried tomatoes, artichoke hearts, zucchini, olives, garlic, parmesan, sausage (optional), and pepper in a large bowl. Toss in pasta and mozzarella. Drain hot water from cherry or grape tomatoes and cover with ice water. Wisk olive oil and basalmic vinegar and drizzle over pasta and veggie mixture. Add cherry or grape tomatoes when they are cool. Refrigerate for 2-4 hours. Serve with crusty bread.
Sign up for my email newsletter to get recipes like this delivered to your inbox!
2