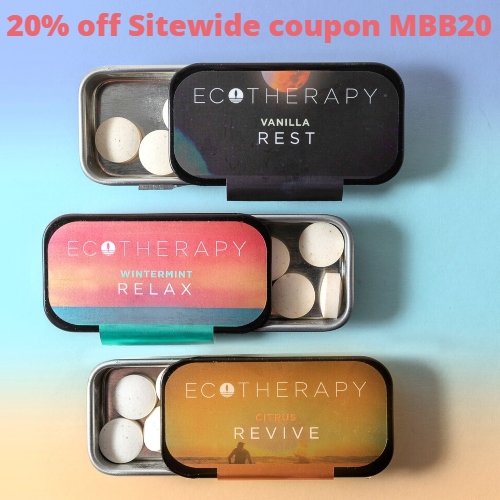 Eco Therapy offers premium CBD mints that combine some of the most beneficial plants mother nature has to offer with modern science to help you revive, relax, and rest naturally.
Eco Therapy believes in the power of whole plant CBD oil. Their great tasting & fast acting CBD mints are made the highest quality full spectrum CBD oil and infused with all-natural & scientifically validated essential oils, vitamins, and curated blends of terpenes that enhance the effects of the CBD and deliver optimal results.
To make dosing more effective, their CBD mints are made using innovative nanotechnology that shrinks the CBD particles so you get maximum absorption every time, making each dose more effective and allowing you to consume less and feel more.
Eco Therapy CBD Mints are available in 3 varieties – citrus flavored Revive for focus & energy, wintermint flavored Relax for consistent tranquility & calm throughout your day, and vanilla flavored Rest for a good night's sleep.
Get 20% off Sitewide at Eco Therapy using coupon MBB20. Shipping is a flat rate of $4.95 on all orders.
You can try all 3 mints with their CBD Mint Mini Bundle. It's only $16 with coupon MBB20.
Eco Therapy partners with formulation experts, Trinity Terpenes, to scientifically formulate their special terpene blends. Trinity Terpenes is known in the industry for their commitment to using the best practices and producing the highest quality products.
2