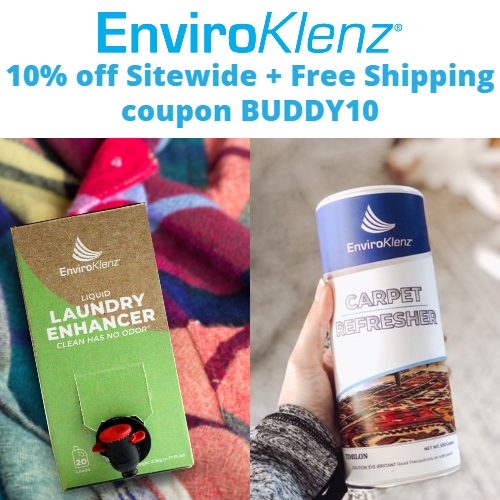 EnviroKlenz is all about creating safer environments. Their mission is to eliminate harmful chemicals, biological contaminants, and toxins by delivering effective solutions that are safe for people, pets, and the environment.
Their patented earth mineral technology has been 3rd party tested and proven to capture and destroy airborne toxic & noxious gasses, particulates, allergens, viruses, bacteria, and other allergy triggers through an "adsorptive neutralization" that takes in the offending contaminants, breaks them down, eliminates them, and ensures no harmful by-products are created or released back into your environment.
Their product line includes air purifiers, HVAC Filter filters, odor neutralizers for laundry, carpet and surfaces, hand soap, and more.
Are you sick of laundry smelling musty even after washing? Be sure to check out their laundry enhancer. EnviroKlenz's odor-fighting enhancer eliminates odors at their source without harsh chemicals or fragrances. Simply add it in with your regular detergent for fresh, odor-free laundry. It is earth-friendly, gentle, hypoallergenic, septic-safe and compatible with high-efficiency and front load washing machines.
Get 10% off Sitewide at EnviroKlenz using coupon BUDDY10. All orders currently ship Free – No minimum purchase required! All products are backed by a 30-day money back guarantee.
2