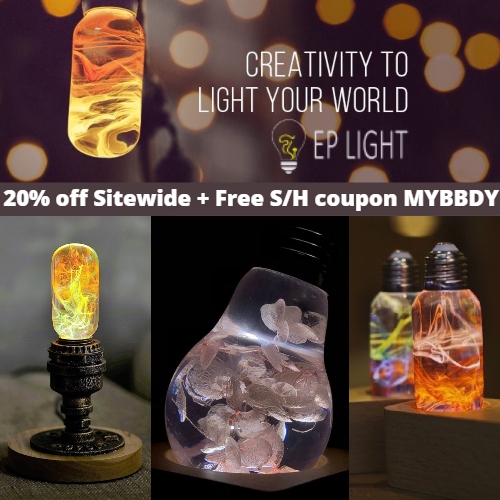 EP Light offers unique, decorative LED lamps & light bulbs. Inspired by the creative influences of Jackson Pollock's abstract painting and the timeless Thomas Edison bulb, their lamps & bulbs don't just provide light, they are hand-made works of art.
Their bulbs can be used in any fixture, just like a common LED bulb, so you can add beautiful color & design to any room in your home or office. Each of EP Light's bulbs are individually handcrafted with the highest quality, eco-friendly materials. They are extremely durable and drop resistant, they last over 10k hours, they never get hot to the touch, and they use 63% less energy than regular bulbs! They come in tons of colors, styles, and designs, including traditional Edison bulbs, tubular bulbs, and vintage bulbs.
EP Light's vintage lamps & floor lamps add unique style and functionality to your space with great features like 16 million color options, 358 kinds of lighting effects, dimmable bulbs, remote control operation, and more. They have many different styles to choose from that are all fun for your home or office!
Get 20% off Sitewide at EP Light using coupon MYBBDY. All orders ship Free – No minimum purchase required. All bulbs & lamps come with a 100% money back guarantee.
2