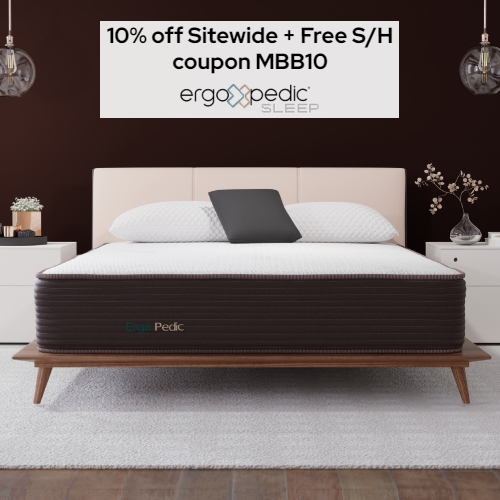 Getting a good night's sleep is vital to your health and wellbeing. It not only helps you feel refreshed and rejuvenated, but also boosts your immune system, improves your cognitive function, and promotes emotional stability. That's why it's crucial to invest in quality sleep products that can provide you with the comfort and support you need.
Enter Ergo-Pedic Sleep, a company that's dedicated to creating comfortable and reliable sleep products that offer tangible health benefits. Their mission is simple: to help you sleep better so you can live better.
What makes Ergo-Pedic Sleep stand out from the crowd is their commitment to quality and trust. They understand the importance of feeling secure and comfortable while you sleep, and they strive to recreate the feelings of safety and reliability we experienced as children with our favorite blankets.
The mattresses, toppers, pillows, and pet beds that Ergo-Pedic Sleep ships are the same ones their families, pets, and closest friends sleep on. They stand behind their products and are confident that you'll love them too.
Ergo-Pedic Sleep products are enhanced with THC-free hemp-derived compounds and copper gel memory foam infusions. These additions make their products even more comfortable, consistent, and dependable. The THC-free hemp-derived compound helps to promote relaxation, reduce anxiety, and improve sleep quality. The copper gel memory foam infusion helps to regulate temperature, reduce pressure points, and provide optimal support.
Their products are designed with your health and wellbeing in mind. They're made from high-quality materials that are durable, breathable, and hypoallergenic. This means that you can sleep comfortably and confidently, knowing that you're sleeping on a product that's good for you and the environment.
Get 10% off Sitewide at Ergo-Pedic Sleep using . Shipping is Free on all orders in the contiguous U.S. Mattresses are backed by a 90-day return policy and a 10-year limited warranty. Toppers, pillows, and pet beds include a 1-year warranty.
1