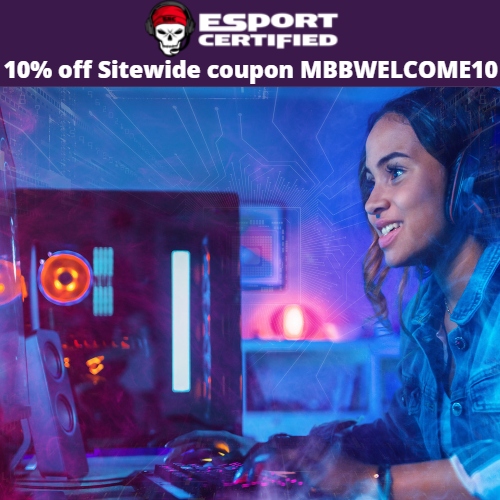 Esport Certified is a destination for gaming enthusiasts – a place for armchair generals, casual gamers, and everyone in between who is looking to get the latest gaming equipment at affordable prices. Esport Certified specializes in certified refurbished, like-new electronics that make the digital (and physical) world a better place by giving gaming electronics a new life and reducing e-waste.
Every Esport Certified refurbished product has been professionally restored to meet or exceed brand manufacture quality and is in good working order. This means that each product has been thoroughly inspected, cleaned, and repaired to meet original manufacturer quality specifications. Products may or may not be in their original packaging, however, each receives a new UPC code and amended part # to ensure proper positioning and maintaining channel integrity. In addition to any brand manufacture warranty, Esport Certified places their own 90-Day warranty on every product they sell!
Esport Certified offers a large selection of electronics including laptops, desktops, monitors, earbuds, headsets, speakers, microphones, mice, keyboards, webcams, and more. From digital dorm electronics to wearables and mechanical keyboards, you can buy it all on Esport Certified!
In addition to their great gaming electronics, Esport Certified also offers top quality electric bikes and helmets. The bikes are a great option for a practical, eco-friendly, city commuter and the Lumos Helmets unleash a whole new level of safety. They are designed to make you highly visible and your actions predictable. The super-bright LEDs in the back help you stand out on the road and the built in turn signals & brake lights let other motorists know your intentions.
Get 10% off Sitewide at Esport Certified using coupon MBBWELCOME10 or get $10 off $100 or more using coupon MBBTENOFF. Shipping is $8 or Free on orders of $75 or more. All products come with a 30-day money back guarantee.
More about e-waste –
E-waste, or electronic waste, represents just 2% of the trash in America's landfills, but makes up a whopping 70% of overall toxic waste. And the majority of what's labeled as e-waste is not waste at all, but rather functioning electronic equipment or parts that can be reused. What's the big deal with e-waste? It contains a long list of chemicals that are toxic to humans and the environment, like beryllium, lead, mercury, brominated flame retardants, and cadmium – all bad stuff. When electronics are disposed of improperly, these chemicals end up in our water, air, and soil.
By choosing to buy refurbished gaming equipment over brand new gear, you're taking a stand against e-waste. You're giving perfectly good electronics a new lease on life so they don't end up in a landfill. You're turning your passion for gaming into a power for good!
2