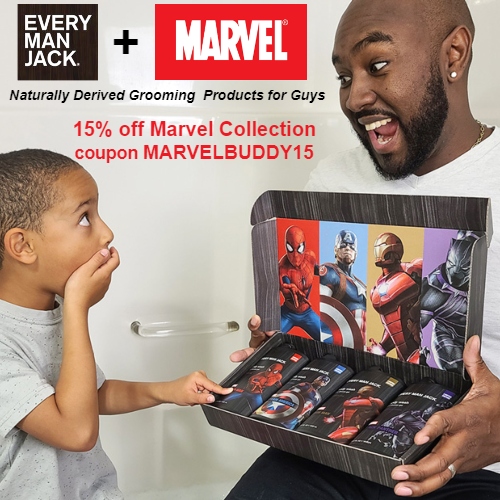 Every Man Jack offers high quality, affordable grooming products for guys. Their products give you exceptional performance using naturally derived, plant-based ingredients like activated charcoal, coconut oil, aloe vera, and arrowroot powder, with no parabens, no phthalates, no dyes, and no sodium lauryl sulfate.
Every Man Jack has partnered with Marvel to create four limited edition collections that feature a deodorant, body wash, 3 in 1 all over wash, and hand soap in unique fragrances inspired by iconic Marvel characters. These collections are great for Marvel fans big and small – the naturally derived products are strong & effective enough for a man and gentle enough for even the smallest superheroes.
The Every Man Jack Marvel Collection includes:
Spider-Man – Their Spider-Man collection is perfect for any aspiring web-slinger or wall-crawler. Featuring a FRESH AIR scent infused with bergamot and wild mint, it will leave you feeling like you're on a midnight swing through a New York City skyline.
Black Panther – Be the king of your own body by treating yourself like one. Naturally-derived ingredients – second only to Vibranium – power this epic collection fit for royalty. The Wakanda Herbs fragrance incorporates lavender and clove to keep you fresh, clean and confident.
Captain America – Claim victory for your body with this All-American fragrance dedicated to the hero Captain America himself. Their Winter Mint fragrance is packed with spearmint essential oil plus notes of eucalyptus and lemon to awaken your senses.
Iron Man – Don't waste any time rethinking your routine. The Iron Man inspired line will help any low-key genius look and smell like the coolest guy in the room. With notes of bergamot, oak, and citrus, their Crimson Oak scent captures the sophistication and intellect of Iron Man himself.
All products are gluten free, vegan, aluminum free, and cruelty free.
Get 15% off the Marvel Collection at Every Man Jack using coupon MARVELBUDDY15 . Shipping is Free on orders of $50 or more.
Fun Fact: Every Man Jack grooming products have been recognized by Men's Health, Esquire, Oprah magazine, and more for their outstanding quality and design.
4