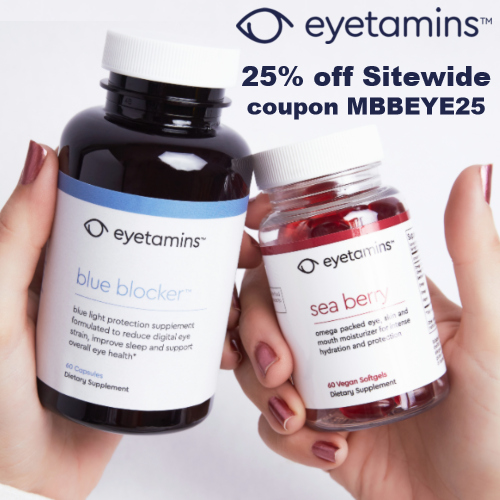 If you spend a lot of time in front of a computer, you could be at risk for digital eye strain. Eyetamins can help! They are the first natural eye care supplement to directly address the needs of the modern day. Their ophthalmologist created formulas are proven to counteract the harmful effects of blue light, protect against digital eye strain, improve sleep, and increase overall eye health.
Unlike other eye vitamins that can contain unproven and harmful ingredients, Eyetamins uses only clinically proven natural ingredients. They also support eye care charities across the globe to help prevent blindness!
Get 25% off Sitewide at Eyetamins using coupon MBBEYE25. Coupon will work on an individual purchase and/or your first shipment on a subscription order. All supplements come with a 60-day no-risk trial and a 100% money back guarantee.
The Eyetamins product line includes –
Sea Berry – Packed with vegan omega 3,6,7, and 9 from Tibetan sea buckthorn oil to moisturize the eye, skin, and mouth.
Blue Blocker – For those seeking maximum protection in the modern world. Filters blue light, reduces eye strain, enhances eyesight and improves sleep.
Vitaleyes – With 50% of the brain devoted towards vision and eye movements, this unique eye-brain formula is designed for maximum visual and mental clarity and protection.
Happy Eyes – Blue light filtering gummies to reduce digital eyestrain, improve sleep, and support eye health.
Harmoneyes – A rare combination of potent super-nutrients to support eye pressure control.
Nurtureyes – Eye health gummies supplement to protect and nurture visual and cognitive development in kids.

11