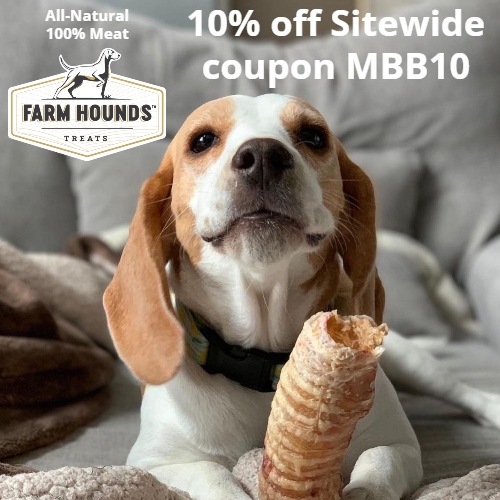 Farm Hounds offers all-natural dog treats & chews that are safe, healthy & delicious for your pup while also supporting family farms, regenerative agriculture, & humane farming practices.
When you buy natural dog treats & chews from Farm Hounds, you know exactly what you're getting and where it came from. All Farm Hounds products include the name of the family farm they came from and are made with 100% humanely raised meat with no fillers or preservatives. That's why you won't find an ingredients list on their packaging. The products only have one ingredient and it's in the name.
Their product line includes a variety of meat strips, jerky, and other 100% meat treats, safe & long lasting chews & hides, and food toppers that you sprinkle on their meals to provide extra nutrition and get your pup extra excited for meal time.
Get 10% off Sitewide at Farm Hounds using coupon MBB10. Shipping is Free on orders of $75 or more. Coupon is not valid on subscription orders.
All orders come with a 100% satisfaction guarantee. If you or your pup aren't satisfied for any reason, just let Farm Hounds know and they will give you a refund!
5