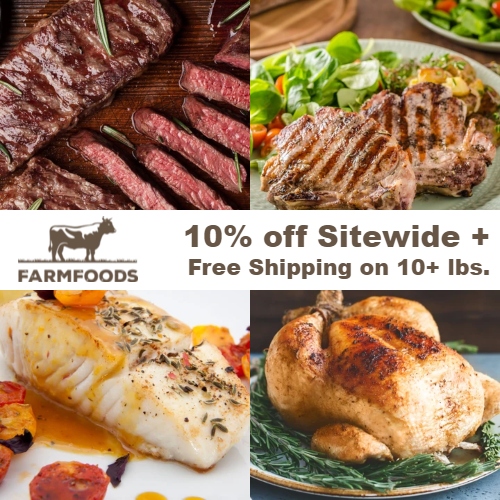 FarmFoods offers beef, pork, and chicken directly from the farm and wild caught seafood from by small-scale family fishermen.
FarmFoods beef is 100% grass fed/finished from organic certified farms, with no hormones or antibiotics. Their heritage pork is from pastured, hormone free Berkshire pigs brought up on a nutritious all-vegetarian diet and given no unnecessary antibiotics. All chicken is raised outside on pasture 24/7/365 where they can forage grasses, bugs, seed, and worms. They are never given any vaccine, antibiotics, hormones or drugs.
Get an extra 10% off your first order at Farm Foods Market using coupon WELCOME. Coupon will work on sale items. Orders of 10-lbs or more ship Free. All orders are guaranteed to arrive frozen or your money back!
Prices on items below are after coupon.
10-12-lb. Steak Sampler : $116.10 + Free S/H (reg. $187.05)
20-lbs of Ground Beef : $134.10 + Free S/H (reg. $216.05)
10-12-lbs of Chicken : $80.10 + Free S/H (reg. $143.55)
7