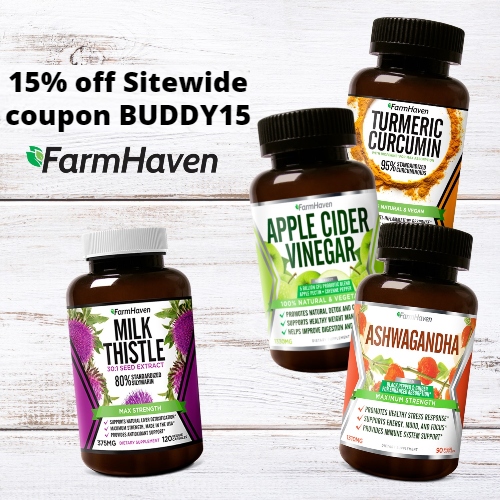 FarmHaven is committed to helping support health and inspire well-being by creating nourishing and wholesome supplements with the best possible ingredients from nature. FarmHaven only creates products they know are effective and backed by science, so you don't have to worry about wasting money on supplements that don't provide results.
Their product line includes:
Turmeric Curcumin for cardiovascular health, joint & muscle comfort, and healthy anti-inflammatory response.
Milk Thistle for natural liver detoxification + antioxidants.
Magnesium Complex for muscle & nerve function, relaxation & sleep, and bone & heart health.
Digestive Enzymes for overall digestive health, gas & bloating, and it aids the breakdown of protein, fats & carbs.
Ashwagandha for energy, mood & stamina enhancement, and stress & anxiety support.
Apple Cider Vinegar & Apple Cider Vinegar + Soothing Herbs for weight loss, detox, and digestion.
Get 15% off Sitewide at FarmHaven using coupon BUDDY15. Shipping is Free on orders of $35 or more.
3