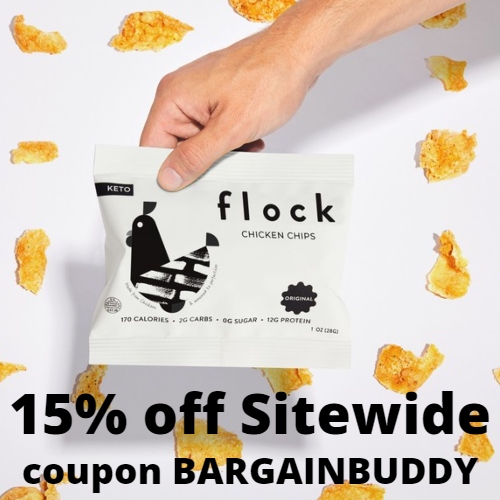 Looking for a healthy snack that's keto-friendly and actually tastes good? Check out Flock. Their tasty chicken chips are the perfect snack for people on a low-carb or low sugar diet or anyone else who wants a healthier alternative to carb-filled, zero protein potato chips.
Flock Chicken Chips made from 100% real chicken and have the crisp, crunchy texture of the potato chips you love with the protein of jerky! They come in 6 delicious flavors – Original, Cravings Honey Siracha, Hattie B's Nashville Hot, BBQ, Salt & Vinegar, and Cajun. All flavors are gluten-free, contain no carbs, and have 13 grams of protein per serving.
Other low-carb snacks you'll find at Flock include Bacon Jerky, Pork Curls (pork rinds), Spicy Chicken Jerky, Pork Panko Bread Crumbs that are great for salads, cooking, & casseroles, and Biltong (beef that's air dried whole before it's sliced into bite sized pieces to give it a soft and fluffy texture, instead of the steak-like chew of jerky).
Get 15% off Sitewide at Flock Foods using coupon BARGAINBUDDY.
Flock is so confident that you'll love their products, they let you try them risk-free. If you don't like the product you ordered, let them know and they'll issue a full refund! Offer valid for 1 case on your first order of a new product.
2