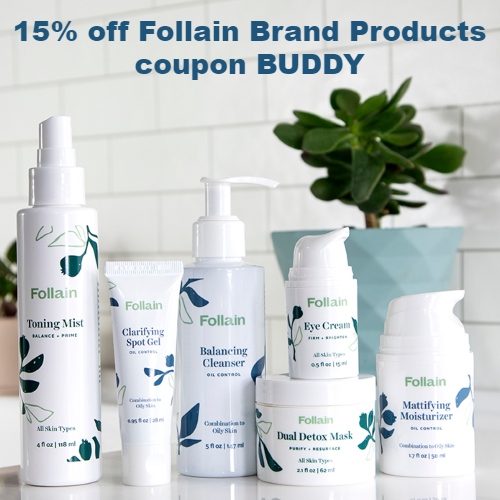 Follain offers top of the line skincare and bath & body care products that are extremely safe and effective. Since 2013, Follain has been setting the clean standard for safety and performance in personal care – they believe no one should have to compromise their health for beauty. Follain ensures that every product they produce is unfailingly safe, effective and luxurious to experience.
Follain offers a full line of skincare products that are EWG VERIFIED™ – the highest industry standard for safety. Their easy-to-use skincare essentials combine powerhouse clean ingredients with cutting-edge discoveries to give you amazing results. Their products are formulated to provide the nourishing vitamins, minerals, and protective antioxidants your skin needs and help with blemish control, hydration, anti-aging, an even complexion, and more.
Follain's bath & body care products are made of the highest quality, clean ingredients that cleanse, nourish, soothe, and protect. They offer lip balm, body oil, body lotion, bar soap, body scrub, charcoal deodorant, and their awesome refillable Everything Soap that can be used anywhere on the face and body, is safe for kids and pets, and comes in two great scents that both smell amazing – Lemongrass and Lavender.
Follain products are non-toxic, non-GMO, gluten free, cruelty free, free of mineral oils, parabens, phthalates & other harmful ingredients, dermatologist tested, and made in the USA.
Get 15% off Follain Brand Products at Follain using coupon BUDDY. Shipping is Free on orders over $50.
Not a fan of a product you purchased? No worries and no returns needed with their Perfect Match guarantee. Just let them know what you didn't like, and they'll refund the price in store credit and help you find something else, until you find your perfect match!
11