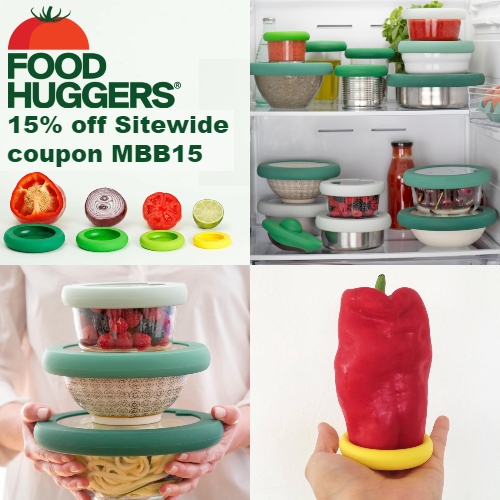 Food Huggers reduce food waste and plastic waste, while being super easy and enjoyable to use. Their products make it easy to adopt sustainable practices at home, without giving up convenience or style.
Food Huggers ensure that fruits and vegetables are kept fresh long enough for them to be enjoyed, instead of being tossed in the trash because they went bad sooner than expected. Their products can be used over and over again, replacing tons of single use plastic wrap, bags, and foil that you might otherwise have bought and then tossed – cutting back on landfill waste and wasted money!
Food Huggers nest compactly for space saving storage and organization. They offer many different colors & sizes to fit almost any fruit or vegetable. You can also use them to seal open cans, jars and convert a glass into a quick and easy, well sealed container.
They also offer handy flexible lids. Each lid adapts to fit different sized bowls using their patented Food Hugger seal to keep freshness in. If you hate single-use plastics and food waste, you're going to LOVE them! The tempered glass lens on top allows you to see what you have stored, and gives them the strength to stack, keeping your refrigerator neat and organized.
Get 15% off Sitewide at Food Huggers using coupon MBB15. All products come with a 30-day satisfaction guarantee and a lifetime warranty!
5