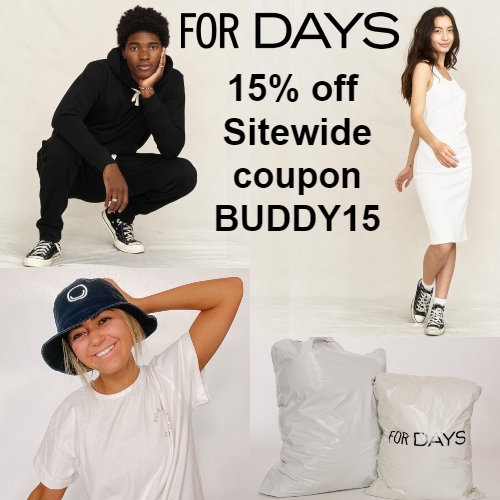 For Days offers high quality sustainable clothing for men and women, as well as a recycling solution for your old clothes.
Who here has too much stuff? It piles up in closets and drawers. You don't want to be wasteful and throw it away, but it's worn out and/or out of style and you need to make room for new clothing. Did you know that Americans throw away 80lbs of clothing per person into landfills annually and that 85% of donations also end up in a landfill?
For Days built a system to fix both of those problems. You can get rid of the junk in your closet guilt free and make room for the new with the Take Back Bag. For Days will take all your old clothes (from any brand, in any condition!) and make sure they never end up in a landfill by turning your old fabrics into brand new clothes. Just throw all your old stuff into your Take Back Bag and use the prepaid shipping label to send it to them. Simple as that!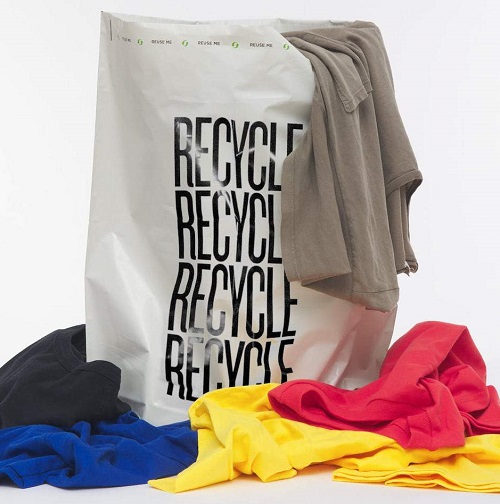 For Days will instantly add a credit to your account for the cost of the bag, good on any future purchase – a $10 credit for the medium size bag and a $20 credit for the large size bag. It's a win for you and a win for the planet! They do not accept undergarments and all items must be clean and washed.
Now that you've made some room in your closet, you can use your credits on some new outfits from For Days. They have a great variety of men's and women's clothing to choose from, including tees & tanks, hoodies & sweatshirts, joggers, shorts, dresses, and more. Their clothing is stylish and extremely soft & comfortable. They focus intensely on fit and finishing details to ensure you are getting the highest quality clothing possible.
All For Days items have a swap credit. When you're ready to recycle the clothing you order from their store, you can send it back and receive the credit listed to use on a new clothes!
Get 15% off Sitewide at For Days using coupon BUDDY15. Shipping is $7 or Free on orders of $35 or more. Take Back Bags ship Free.
For Days ensures that every item is 100% recyclable, and they also minimize waste with things like reusable packaging and company-wide carbon offsets.
4