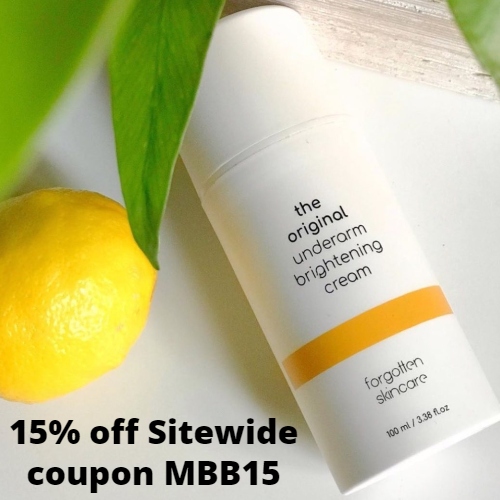 Forgotten Skincare provides safe and effective solutions for areas that are typically forgotten by skincare companies.
Their one-of-a-kind, Underarm Brightening Deodorant Cream is the perfect all-in-one treatment for underarm problems – It targets hyperpigmentation and evens skin tone, smooths bumps from razor burn, prevents ingrown hairs, and gets rid of body odor.
Say goodbye to dark inner thighs with The Down Low Inner Thigh Serum. This gentle yet powerful serum is made with papaya fruit enzyme, licorice root, niacinamide (vitamin B3), and other natural ingredients so it can be used anywhere externally down low. It brightens dark inner thighs, bikini lines & intimate areas, soothes razor burn, redness & irritation, and prevents bumps from ingrown hairs.
Both products are specially formulated with natural and gentle brightening ingredients. They are completely free of bleach, synthetic hydroquinone, parabens, silicones, baking soda, animal products, synthetic fragrances, mineral oil, and harsh preservatives.
Get 15% off Sitewide at Forgotten Skincare using coupon MBB15. Shipping is a flat rate of $6.50 on all orders.
3