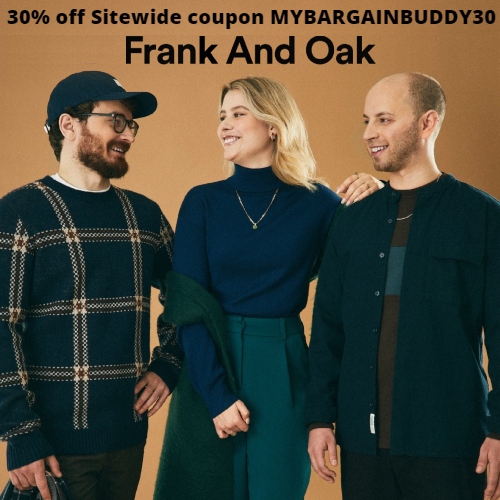 Frank And Oak is a Montreal based fashion brand with a mission to create apparel that speaks to a new generation of creatives & entrepreneurs and to inspire a better way of living by crafting conscious products that are built to last.
They believe clothes make a more powerful statement when they are made from mindfully-sourced fabrics & materials that give you top-notch durability, functionality, and style – Without compromising the planet!
Frank And Oak's innovative eco-friendly fabrics and thoughtful designs have made them a leader in sustainable fashion and one of Canada's top lifestyle brands.
Their stylish men's & women's apparel is classic & timeless with a modern twist. The line includes everyday wear, work wear, business attire, Après-ski apparel, outerwear, accessories, and more.
Get 30% off Sitewide at Frank And Oak using coupon MYBARGAINBUDDY30. Shipping is Free on orders over $50. Be sure to check out their sale section. Many items are over 50% off before coupon!
Frank And Oak wants to make sure you LOVE your new clothes. That is why they offer 15-day Free returns. If what you ordered isn't perfect for any reason, you can send it back for a refund. Be sure to leave all tags & cardboard backings attached. Items must be in new, undamaged condition. Face masks, gift cards, undergarments, socks and other select products are final sale and cannot be returned or exchanged.
More about their sustainable fabrics –
– 78% of their products either contain certified low-impact, cruelty-free, organic, biodegradable, or recycled fibers.
– 100% of their denim collection is circular, meaning it is designed to be easily recycled, made using conscious materials and mindful production methods. Plus, 55% of their denim assortment is composed of recycled materials originating from salvaged fibers.
– Their use of virgin polyester has decreased by 22% since 2019, with recycled polyester increasing by 43%. Polyester is featured in the outerwear collection to guarantee lasting performance & durability.
– 100% of their wool is either recycled or certified cruelty-free and sourced from ethical farms that use holistic practices on their land & in their herds.
2