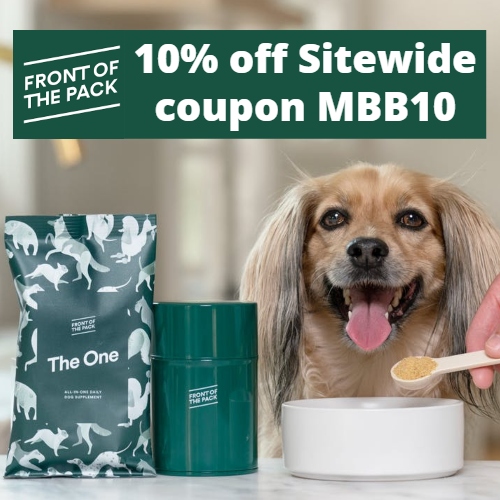 This post contains affiliate links. See my disclosure policy for more details.
Studies show that canine health is in a serious decline. Most dogs don't get the nutrients they need from their dog food, and most pet health supplements are made with unproven ingredients and packed with up to 70% fillers – making them ineffective.
Founded by a team of vets, biochemists, and dog lovers, Front of the Pack is on a mission to change this! Using patented technology and clinically-proven ingredients, they developed a first-of-its-kind pure powder supplement for dogs that is rooted in nature and backed by science to give your pup the nutrition she needs to stay healthy and strong.
Front of the Pack ingredients are carefully sourced, completely pure, and non-generic. Each ingredient is chosen by a scientific advisory board that only selects ingredients with the proven potency to actually work, so you can be confident their supplements will do exactly what they claim.
All supplements are non-GMO, hypoallergenic, pesticide-free, and do not contain artificial flavors or colors. They are blended with a broth-like flavor your pups will love. Simply sprinkle some onto their food or mix it in with their favorite snack once a day.
Front of the Pack also offers top-notch air-dried dog food that combines quality & convenience to keep your life simple and your pup healthy. It is made with the highest quality, wholesome ingredients and dried low & slow to retain 100% of nutrients.
It is available in delicious Grass-Fed USDA Beef & Cage-Free Chicken flavors and has a crumbly texture that's easy for dogs of all sizes to digest. Plus, it's fridge-free & ready-to-eat with zero prep or clean-up required!
Get 10% off Sitewide at Front of the Pack using coupon MBB10. The more you buy, the more you'll save! Get up to 20% before coupon when you order 2, 3, or 6 pouch multi-packs! Shipping is $4.99 or Free on orders of $25 or more. All products come with a 90-day money back guarantee. Coupon is not valid on subscription orders.
Their line of premium dog supplements includes:
The One – A revolutionary blend of the most clinically-proven ingredients to ever be used in a dog supplement. This all-in-one supplement relieves hip & joint stiffness, promotes mental clarity, alleviates anxiety & stress, supports healthy digestion, supports immune function, soothes itchy skin & allergies, helps maintain healthy heart function, and freshens breath & reduces plaque.
Front of the Pack sent me a container of The One for my dogs (12-year-old Yorkie mix, 9-year-old poodle mix, and 5-year old Rottweiler). While it's too soon to see any benefits, I can tell you they loved the stuff! I sprinkled the powder on their dry food and added a bit of hot water to mix it in and they licked their bowls clean, even the Yorkie, who can be pretty finicky.
Harmony – Made from a blend of adaptogens, nootropics and clinically proven ingredients, this innovative non-drowsy supplement helps relieve anxiety, promotes a sense of calm, and gives your dog a stress-free, relaxing mindset in under 90 minutes. It comes in handy 1-time-use stick packs for on-the-go relaxation.
Move – Made with 6 powerhouse clinically proven ingredients, Move supports healthy joint function and inflammatory response, as well as healthy cartilage metabolism and flexibility to help your dog stay active and healthy as they age.
Soothe – This supplement targets itch and supports a healthy gut. It is the first ever dog supplement that combines three clinically-tested-in-dogs postbiotics shown to support healthy, clear skin, a strong gut, healthy microbiome, and a healthy immune response.
Front of the Pack also offers freeze dried treats that are made with pure, raw protein that's slowly freeze-dried to lock in the vital nutrients without cooking the food. Treats are available in Farm Raised Rabbit, Wild Alaskan Salmon, and Free Range Beef Tripe. They contain no added fillers, flavoring, or rendered by-products.
6