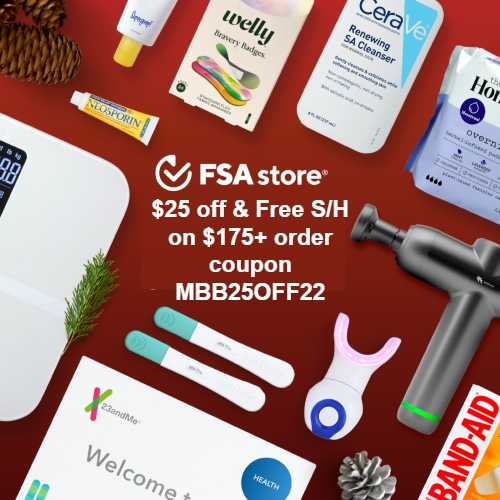 Do you have leftover funds in your FSA account but have no idea what you're allowed to use them for? FSA Store is here to help!
FSA Store takes the guesswork out of using your FSA funds. They are a direct-to-consumer retailer that only carries FSA-eligible products – So if you see it on their site, you know it's an approved product!
FSA Store has a large inventory of over 2,500 eligible products that includes over-the-counter medicine, vitamins, personal care products, sunscreen, menstrual care products, maternity & baby care products, home healthcare supplies, and much more.
Still not sure what to use your funds for? Check out their selection of Surprisingly Eligible products that includes items you never would've thought qualify, like light therapy treatments, TENS therapy devices, heating pads, and massage devices.
Get $25 off and Free Shipping on your order of $175 or more at FSA Store using coupon MBB25OFF22. For the best deals check out their bundles, end-of-month specials, and sale items.
2