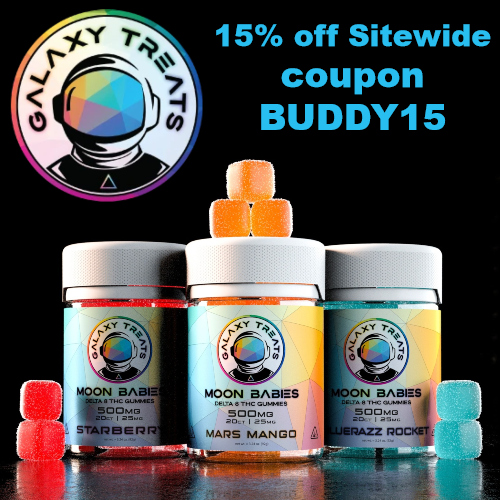 Galaxy Treats incorporates Delta 8 THC into their tasty gummies and krispies. Their Delta 8 THC is legal according to federal law and many state laws. It is 100% derived from legal hemp and does not contain more then 0.3% ∆9 THC or any CBD.
Delta-8 THC is delta-8-tetrahydrocannabinol, a cannabinoid found in hemp and cannabis. While Delta-8 is known to be mildly psychoactive, it's effects are not as impactful as those of delta-9 THC, d8's closely related relative.
Galaxy Treats Delta 8 Gummies contain 25mg of Delta 8 and are are available in fun, all-natural fruit flavors, like Bluerazz, Mars Mango, and Starwberry. They are manufactured in the United States and rigorously third-party lab-tested to to ensure quality.
Galaxy Treats Cosmic Krispies contain 100mg of Delta 8 in each 4 serving bag. Delta 9 Gummies are available in Pineapple/Mango and Strawberry/Watermelon. Each gummie contains 10mg of Hemp Derived Delta 9.
Get 15% off Sitewide at Galaxy Treats using coupon BUDDY15. Shipping is $4 or Free on orders over $30.
2