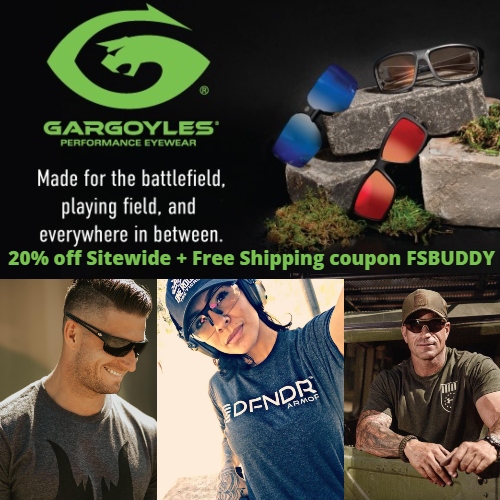 Gargoyles Eyewear creates performance sunglasses that are built for the battlefield, playing field, and everywhere in between.
Their innovative sunglasses offer the best in coverage and optical clarity. They're crafted to meet or exceed U.S. and ANSI regulations and standards for UVA, UVB, and UVC protection. Their high-index, polycarbonate lenses are uniquely designed to provide optimal coverage of your entire eye and they feature oleo phobic treatments that repel water and oil, as well as anti-reflective treatments for glare reduction.
Gargoyles Eyewear believes that no matter who you are or what you do, protecting your eyes should be a top priority. They have collections to suit any need, including military & law enforcement, active & sport, running, fishing, and lifestyle for everyday wear. Each collection features many different colors & styles, so it's easy to get the protection you need and the look you want.
Get 20% off Sitewide at Gargoyles Eyewear using coupon FSBUDDY. Be sure to check out their outlet section – Sunglasses start at just $40 before coupon! Standard shipping is Free on all orders – No minimum purchase required. You can upgrade to 2-day shipping for $10.
All sunglasses come with a 30-day satisfaction guarantee. If you aren't satisfied for any reason, you can send them back for a refund. Products must be in the condition you received them and in the original box and/or packaging.
Gargoyles Eyewear performance sunglasses are built to last, but if anything ever goes wrong with yours, don't worry! Gargoyles will do what it takes to make it right with their "Do the Right Thing" warranty. If you have any issues with damaged or unusable sunglasses, whether it's due to manufacturer's defect, or even user error, let them know and they will make it right!
How Gargoyles Eyewear got started –
In 1979, Dennis Burns, founder of Gargoyles Eyewear, revolutionized an entire industry with the invention of Toric lens technology. Dennis noticed that flat sunglasses left the eyes more exposed to the elements, and that curved lenses of the time were causing visual distortion and stress on the eyes. His state-of-the-art innovation became the basis of a brand. The lens technology was so good, it was used by the U.S. Army for ballistic protection.
4