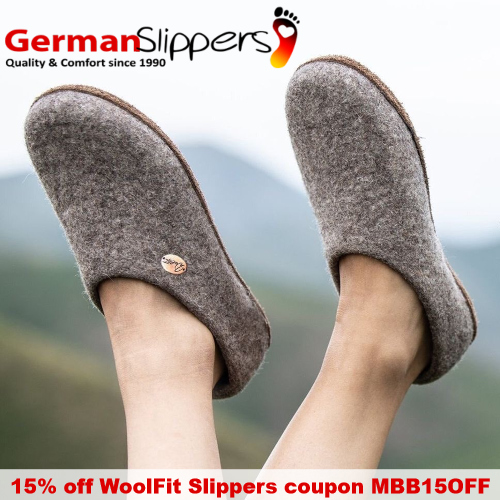 German-Slippers is Germany's largest online retailer when it comes to the widest selection of house shoes for men, women, and children. One of their most popular slipper brands is WoolFit.
WoolFit slippers are the softest all natural wool slippers in the world. Using sustainable, unmixed virgin wool and other natural materials, they are handmade in a traditional process, making them not only warm, but also breathable, anti-static, and anti-bacterial. A self-forming base quickly adapts to your foot contours, providing a unique, extremely soft support.
If you suffer from foot pain due to a heel spur, hammer toes, bunions, or other painful foot problems that require a soft environment, Woolfit is exactly what you are looking for!
For a limited time, you can get 15% off all WoolFit Slippers at German Slippers using coupon MBB15OFF. Shipping is Free on orders over $50.
WoolFit Slippers are ethically produced and hand crafted in Kyrgyzstan. With your purchase, you not only get one of the highest quality and most comfortable slippers in the world, but also support felt artists and shepherds by helping create secure and fair paid jobs.
9