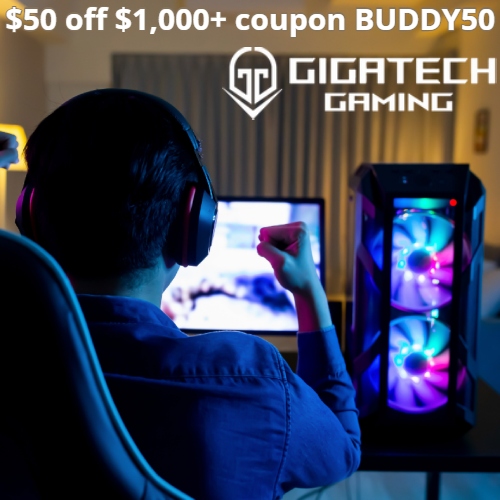 Gigatech Gaming is a PC gaming company with a mission to make computer gaming accessible to anyone. Their products are designed to enhance the experience for gamers of all levels, from beginners to enthusiasts, at any price point.
Their cutting-edge technology on both the hardware and software sides redefine PC gaming. Their machines feature advanced cooling systems, unbeatable RAM, high watt PSU, and powerful NVIDIA RTX GPUS, all wrapped up in a sleek & stylish case design.
All Gigatech PCs can be customized to suit your exact needs. Each one is built by experts for quick & easy setup and fine-tuned for the best possible performance. They have three series to choose from:
Apollo Series (good performance) – These stunning entry level desktops are the best for starting off with the foundations of gaming and can be upgraded as you grow.
Titan Series (better performance) – With industry leading price-to-performance, these PC's are perfect for gamers who want a competitive edge.
Omega Series (best performance) –This series gives you ground-breaking innovation with performance to match. Each PC is masterfully built with hand-chosen parts to give you the highest FPS in all your favorite games.
Get $50 off $1,000 or more at Gigatech Gaming using coupon BUDDY50 – OR – $75 off $1,500+ using coupon BUDDY75 – OR – $100 off $2,000+ using coupon BUDDY100.
All PCs are backed by a "No Worries" 1-year warranty. If you have any performance problems with your new PC, Gigatech Gaming will cover all issues including parts & labor within the first year!
1