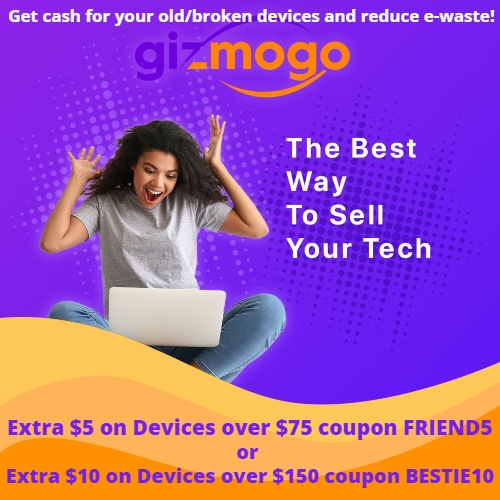 Get paid for your old electronic devices and help the environment with Gizmogo. Gizmogo will give you top dollar for your devices and either restore & resell or recycle them so they don't end up in landfills, on beaches, or at the bottom of the ocean.
According to the EPA, E-waste is the fastest growing municipal waste streams in America, and with ever-changing technology, it just keeps getting worse. E-waste is extremely harmful to the environment & wildlife, and the excessive amount of lead in e-waste could cause severe damage to human health if released into the environment. Gizmogo's mission is to extend the life-cycle of technology while reducing the impact on our environment and passing the value on to you.
The old device sitting in your drawer or the broken device you were going to throw away can be re-purposed and given a new life. Gizmogo can repair and refurbish almost any old device and if they can't repurpose it, they recycle it.
Selling your old or broken devices to Gizmogo is quick & easy! Just answer a few simple questions about your device to get an instant quote, send your device in using the Free pre-paid shipping label, and get your cash. Your instant quote is guaranteed for 15 days and Gizmogo will send your updated quote and payment within 1 business day of receiving and evaluating your device.
Get an extra $5 on devices over $75 at Gizmogo using coupon BUDDY5. Selling a device worth $150 or more? Use coupon BFF10 to get an extra $10 on devices over $150.
Fun Fact: Recycling 1 million laptops saves the energy equivalent to the electricity used by 3,657 U.S. homes in a year!
3