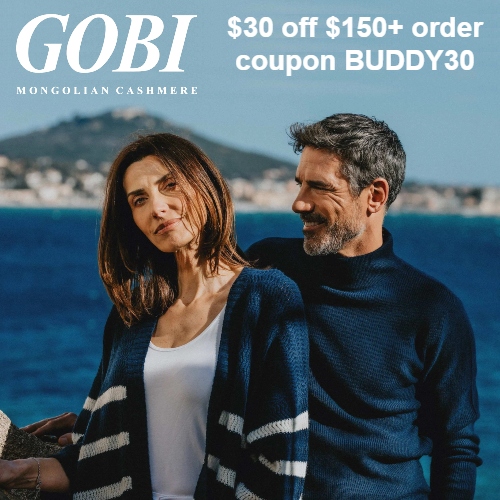 Founded and built by a group of native Mongolian nomads, Gobi Cashmere combines traditional nomadic roots with modern innovation & technology to provide premium quality cashmere. For almost 40 years Gobi has been a global leader in cashmere and they are now the largest cashmere store in the world.
Gobi Cashmere provides the most luxurious cashmere clothing and accessories. They are especially renowned for their exquisite cashmere coats. They offer multiple collections that each have their own style and flair, like the sophisticated Mineral Collection, the stylish Riviera Chic Collection, and the colorful Ice Cream Parlour Collection.
Gobi's cashmere collections come in sizes 2XS-3XL and include men's and women's sweaters, cardigans, coats & blazers, pants & shorts, loungewear, dresses & skirts, hats, scarves, gloves, and more.
Get $30 off your order of $150 or more at Gobi Cashmere using coupon BUDDY30. Coupon is not valid on sale items or $79 essential sets.
Extra Savings: Now through April 29th, you will receive a Free gift card on purchases over $149. Spend $149, get $50, spend $300, get $100, spend $800, get $200, spend $1,500 get $400! Gift cards must be used by May 7, 2021.
Don't like the fit when you try it on? No worries! All orders come with 14-day Free returns. Gobi will even provide a prepaid shipping label to send it back. (Sale items cannot be returned and products must be unworn, undamaged, and in original condition with packaging and tag affixed.).
Mongolia makes up to 48% of the world's cashmere supply. Mongolian goats are one-of-a-kind. The frigid Siberian climate causes the goats to develop a thick undercoat that contains the longest and thinnest strands of wool fiber found on Earth. This "King Fiber" produces the softest and highest quality cashmere. What makes Mongolia's goats even more prized is the four different naturally occurring colors that can be found in a single area alone.
2