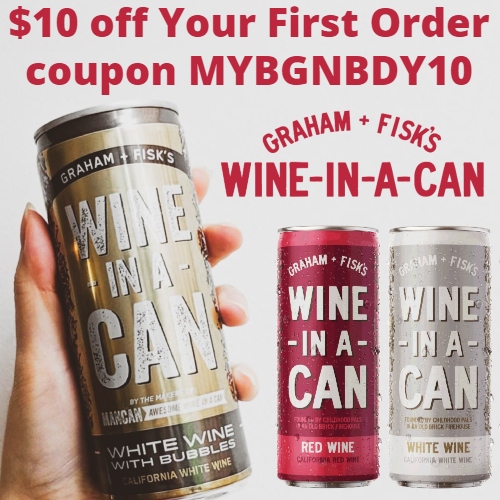 Founded by two childhood friends, Graham + Fisk's offers delicious California wines packaged in convenient cans that are perfect for on-the-go. No wine glasses or corkscrew required!
Graham + Fisk's Wine-In-A-Can is great anytime, but it's really handy for camping, parties, or when you just want one glass but don't want to open a whole bottle. One can is equal to 1/3 of a bottle. If you want more than one glass or you're sharing with a friend, they offer Mancans, which are equivalent to 1/2 a bottle.
Graham + Fisk's wines are just as good as bottled! They were voted the "Best Buy" by Wine Enthusiast and they were a gold medal winner at the International Canned Wine Competition.
Graham + Fisk's Wine-In-A-Can is available in five varietals – Red, White, White with Bubbles, Rosé with Bubbles, and Moscato with Bubbles.
Get $10 off your first order at Graham + Fisk's Wine-In-A-Can using coupon MYBGNBDY10. Shipping is $5.99 or Free on orders over $65. Coupons are not valid on subscription orders.
1