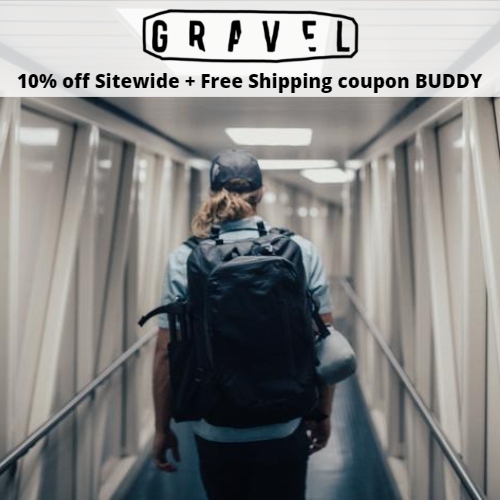 Gravel offers premium quality travel accessories that are extremely convenient and functional. They are passionate about designing travel products that become trusty companions and solve the biggest challenges of being on the go.
Gravel's Layover Travel Blankets are perfect for airplanes and airport layovers or to stave off the winter cold on road trips, picnics, etc. They provide warmth & comfort with an insulated core and protect against cold drafts with leg pockets, foot pouches & a micro fleece kangaroo pocket for your hands. They come with convenient pockets to secure your valuables like headphones, passports & boarding passes. They have a spill-proof, anti-static coating, they quickly turn into a pillow for easy napping, and they pack down to the size of your fists, so you don't have to worry about it taking up space in your carry-on luggage. They are also eco-friendly with the insulation being 100% made from recycled bottles!
Gravel's Explorer Plus Toiletry Bag allows you to pack everything you need, while staying compact. It comes with 8 pockets to keep all your toiletries organized, it protects against shampoo explosions, it includes a clear & removable TSA compliant bag for quick TSA liquid scans, you can hang it up with an adjustable hideaway strap & g-hook, and it's made of premium quality materials that are extremely durable. If it's a short trip or you're a light packer, they offer the Explorer Slim, which has all the same great features, but on a smaller scale.
Gravel's new Carry-On Backpacks are available for pre-order! These backpacks allow you to pack it all with a plethora of sensible pockets and modular internal storage. They feature quick access pockets for stuff like tech, snacks & rain jackets, and they have an expandable water bottle pocket that can accommodate up to a 40oz HydroFlask. They're extremely comfortable, with fully adjustable straps to help you find the right fit to distribute weight. A hovering mesh outer layer wicks back sweat and also doubles as a roller bag passthrough.
They offer other great travel accessories, including 3oz liquid bottles, carabiners, laundry bags, backpack dividers, and cinch straps.
Get 10% off Sitewide + Free Shipping at Gravel using coupon BUDDY. Coupon will work on bundle deals, which are already discounted! All products come with a lifetime warranty.
5