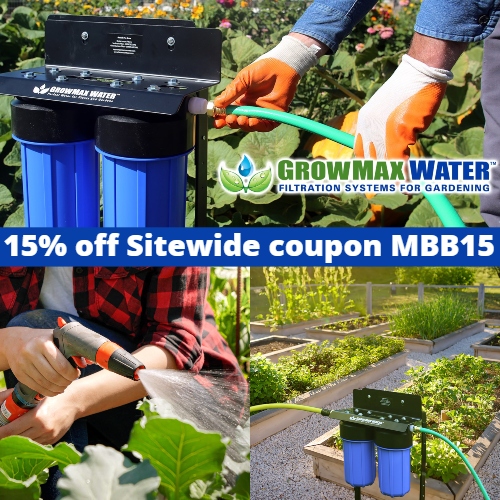 Did you know that tap water contains chlorine and many other contaminants that can be harmful to your garden and to your health? The water we use on our gardens is crucial to growing truly organic food.
GrowMax Water provides highly effective and easy-to-use filtration systems that eliminate 99% of chlorine and contaminants in your garden water so you can grow the cleanest and healthiest fruits and vegetables possible and have peace of mind knowing that you and your family are eating contaminant-free produce.
Their line of outdoor water filtration systems are specifically designed and engineered for home gardeners of all skill levels and set up is a breeze! You can connect them to your garden hose or easily plumb them into your sprinkler or drip irrigation system.
They have 3 models to choose from to fit the needs of gardens of all sizes – from small patio gardens to large professional gardens & community gardens.
Get 15% off Sitewide at GrowMax Water using coupon MBB15. All filtration systems come with a 1-year warranty.
5