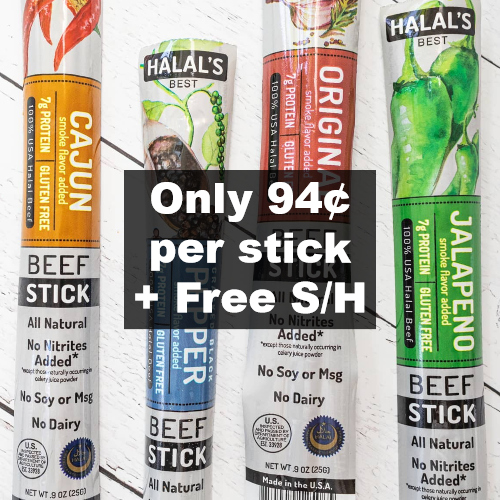 Halal's Best makes certified Halal beef sticks that are healthy and delicious. They use 100% Angus Chuck and blend it with real spices and flavors, like fresh jalapeno. Their beef sticks are made with only clean ingredients, with no added nitrates, soy, or dairy. They're also gluten free and produced in the USA!
Order a 12-Stick Variety Pack Sampler for just $11.25 + Free Shipping using coupon BBMM25 (that's just 94¢ per stick). It comes with 4 original flavor beef sticks and 2 of each of their other favors – Jalapeno, Crushed Red Pepper, Cracked Black Pepper, and Cajun.
If you've already tried Halal's Best Beef Sticks or know which flavor you'd probably like best, you'll only pay 88¢ per stick when you order a 24-pack of a single flavor and apply coupon BBMM25. 24-Packs also ship Free!
4