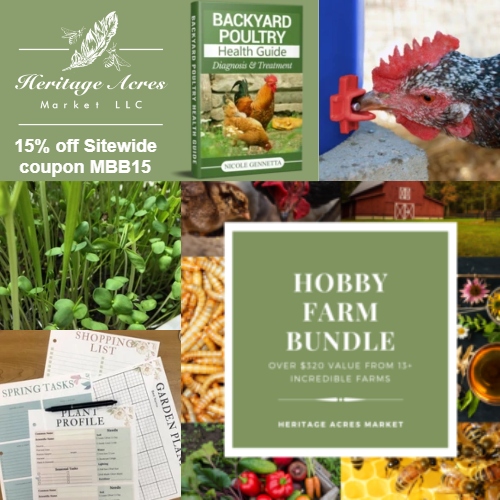 Heritage Acres Market is an online resource for hobby farmers, chicken enthusiasts, beekeepers, gardeners and more. Run by husband and wife team, Patrick and Nicole, they share the knowledge they've acquired over the years running their own 2-acre hobby farm.
Their small paradise in Pueblo West, Colorado is home to chickens, guinea fowl, quail, ducks, turkeys, pheasants, pigeons, and bees. They also have a peach orchard and a picturesque garden. Needless to say, they are expert farmers! Through Heritage Acres Market, some of their favorite products are now available for purchase.
They offer chicken waterer nipples, seeds, garden planner printables, bee gear, and more. If you're planning to start or already have a backyard garden, an urban homestead, or a hobby farm, check out their Hobby Farm Bundle that has over $320 in ebooks, printables, and coupons from more than 13 incredible farms.
Get 15% off Sitewide at Heritage Acres Market using coupon MBB15. Shipping is $5 on all orders.
3